Popular trail at Mt. Tabor Park now signed "No Bikes"
Popular trail at Mt. Tabor Park now signed "No Bikes"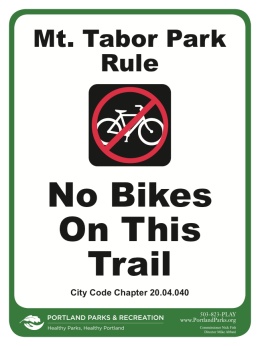 Trail use conflicts continue to plague one of Portland's most popular urban sanctuaries: Mt. Tabor Park. For many years, the several miles of narrow singletrack trails looping around the park have been known as a fun place to ride a mountain bike. But, given the park's urban setting and natural beauty, the crowded trails are also known as a place where user conflicts are common.
Last year I reported that complaints about trail conflicts between people walking and biking, led to the installation of a new "No Bicycles Please" sign on the Green Trail. The Green Trail is a 1.7 mile loop and is one of three trail loops that circumnavigates the park. Earlier this week a reader contacted me saying that several more signs had recently gone up.

The reader was frustrated that bike access was being limited even more. "I fully intend to ignore them," he wrote, "Trail access in Portland, as you know, is becoming a bigger issue as recreational cycling in our city continues to grow." His frustrations are shared by many others.
Unfortunately for people who want to maintain access for bicycles on these trails, the Mt. Tabor Park Master Plan that was adopted in 2000 clearly prohibits bicycling on trails that are narrower than six feet. According to PP&R media relations staffer Mark Ross, all of the Green Trail is less than six feet wide and some places are less than three feet wide.
The map below shows the Mt. Tabor trail system. The Green Trail is marked in green…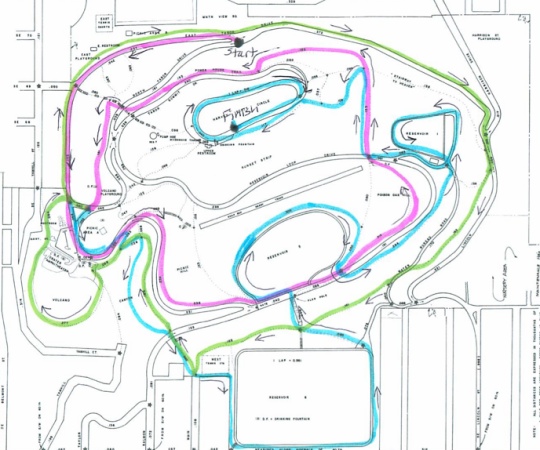 Back in January and February of this year continued trail user conflicts led to meetings between PP&R staff and representatives from the NW Trail Alliance (an off-road bicycling group) and the Mt. Tabor Neighborhood Association. The topic on the table was closing some of the parks trails to bikes.
At the meetings, representatives from both groups agreed that the concerns over user conflicts had reached a point where additional trail access limitations were necessary.
Tom Archer, advocacy director for the NWTA was at those meetings. "What they're doing is enforcing the rules set forth in the Master Plan," he said yesterday, "They've been getting complaints. And the neighbors have the Master Plan to lean on, so there's not much we can do about it."
For context, this is not a new issue in Mt. Tabor. Check out this post to an MTBR forum thread from May 2002:
"This is probably the most crowded place I have ever rode my bike at speeds approaching "creepy dangerous". The more people walking the trails, the more dangerous it gets for all."
An article about bicycling in the park published in The Oregonian in 2004, provides more historical context of the user conflict issue:
"If you want to ride hard, crank up the hills because you need to go easy everywhere else. Lots of walkers and dog owners use the trails, too. If you go too fast, you could hurt somebody, which could hurt mountain biking in the park.

Pat Billings, the park's district supervisor, says dog owners want him to close the park to bikes. But he would rather keep it open if everyone can just get along."
Ross says they're adding 15 new signs on the Green Trail (like the ones at the top of this post) and the installation process began last month. PP&R are working with the non-profit Friends of Mt. Tabor Park group to identify locations for the signs. I'm awaiting more details from Mr. Ross at PP&R about the nature of the complaints that has led to this new round of signs as well as a confirmation that the other two main trails will remain shared use.
—
Have you seen the new signs? I have never taken a mountain bike onto the Tabor trails, so I'm curious what folks think about this. Do you ride these trails? What do you think?