Honest, helpful people still best tool for getting back stolen bikes
Honest, helpful people still best tool for getting back stolen bikes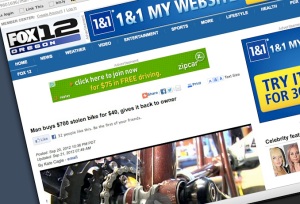 It's been clear to us around here for many years that when it comes to recovering stolen bikes, it's not just technology and the long arm of the law that's going to solve the problem; it's good, old-fashioned community. As I shared last month, people helping people has been a mainstay of the many stolen bike recoveries I've heard about and covered over the years.
Just this week I've come across two more examples that are worth your attention.
KPTV (Fox) aired a story last night about a man who paid $40 for what he knew was a stolen bike, simply so he could return it to its owner. Here's more from their story:
"Instead of happily riding off with his new wheels, the man bought the $700 bike with two $20 bills and took it back to Clever Cycles.

"We were able to look at the serial number on the bike itself and run it through our point of sales system and get the original purchaser," Scholz said.

As it turned out, someone was missing their bike. The owner had logged on to bikeportland.org and added the serial number to the stolen bike registry. He also filed a police report. Just one phone call from Scholz, and it was time for a reunion."
That is fantastic.
And then there's this one I got via email from a reader yesterday:
"Hey Jonathan,

Edie here. So you wanted to know how my 2013 Felt bike was recovered:

Me and a group of friends went to downtown to search for my bike. As we were doing so, a homeless guy asked what we were doing. We told him, and he told us that he saw the listing for my stolen bike on the Craigslist for Portland, and then he thought he saw my bike in a dumpster. So he led us to the dumpster (Near SE Madison) and yes, there it was.

I gave him $75 and directions to Central City Concern (he 's from Oakland).

Crazy, only in Portland."
And then there's this (left via a comment below):
"Just this week, my good friend (and bike touring partner) lost his bike downtown. At my suggestion, he placed a listing here on BikePortland. Within a matter of hours, a person who worked on the street where it went missing found the listing, and as it turns out, was keeping the bike safe in their shop. As it turns out my friend had "missed" the rack with his lock!

Mr. Maus tweeted about the found bike, I relayed the good news to my friend, and they were reunited that afternoon.

From despair to pure joy in about 24 hrs!"
I love sharing these stories because they remind us there are lots of good and helpful people in the world. They also remind us that bikes are getting recovered and having one stolen isn't necessarily the end of the story.