Event Roundup: Centuries, cyclocross, Parkways and dance parties
Event Roundup: Centuries, cyclocross, Parkways and dance parties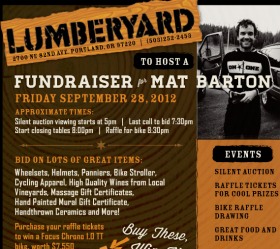 Friday night is your chance to help Mat Barton.
Whether you're into long rides on beautiful country roads or some good, old-fashioned civil disobedience, it's going to be another great weekend on a bike.
Friday night is the big Fundraiser for Mat Barton. As we've shared since his freak crash back in June, Mat is on the road to getting strong again; but he needs community support to do it right. The event is being held at The Lumberyard indoor MTB park and there are tons of great reasons to be there. Check out the event website for more info.
This is the PDX Bike Swarm's "Super Swarm" weekend. This rising activist group is leading several rides this weekend, starting Friday evening with some "Civil Discobedience". According to swarmers, they'll meet at Peace Park (N Interstate and NE Oregon) at 4:30 for a mobile dance party and bike ride to demonstrate "that human power, music, and dance is better than inter-urban freeway occupations, noise and air pollution." The action will target the City's plans to expand I-5 through the Rose Quarter. (Facebook event page)
Also on Friday night, local artist and freak bike maker Johnnie Olivan will unveil his new Bike Train at Bike Bash 2012. The ride will start from the new Rejuiced Bikes headquarters at the corner of NE Mason and Garfield. Meet at 6:00 pm and expect music, art, and fun. Check out the event announcement for more details.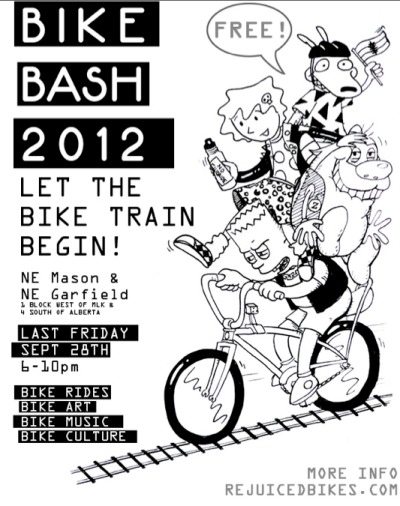 On Saturday, lots of folks will be heading out to Hood River to do the Hood River Harvest Ride. There are five loops to choose from and the scenery and roads are magnificent. If you're concerned about the fire burning in the area and how it impacts air quality, organizers say things should be fine by Saturday. Check their Facebook page for the latest updates.
If you're still looking to get that century ride under your belt, you've got one more chance on Sunday's Harvest Century. This ride leaves from Hillsboro and it has something for everyone, from a three-mile "family route" to the full 100 miler.
[*Note: Special thanks to promoters of the Hood River Harvest Ride and the Harvest Century for supporting BikePortland through advertising!]
Also on Sunday is the final Sunday Parkways of 2012. This time you'll get the chance to explore east Portland. As always there are a ton of activities planned along the route, which will take you on a 7 mile carfree loop that includes the Springwater Corridor and several local parks.
For all you cyclocross racers out there, there are two great options. Saturday is the inaugural Fazio Farms race (PDF of flyer here), which is held just a few minutes from Portland (8433 NE 13th, just northeast of MLK and the Columbia Slough). And Sunday is the Battle at Barlow race out in Gresham.
What did I miss? Feel free to shout out your plans or other big bike events in the comments.