Police looking for driver in northeast Portland hit-and-run
Police looking for driver in northeast Portland hit-and-run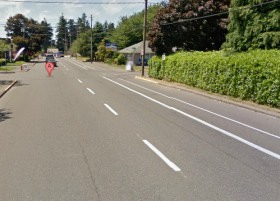 View of NE Weidler at 104th.
The Portland Police are looking for the driver in a hit-and-run that occurred near the intersection of NE 104th and Weidler Street at about 9:00 pm tonight.
According to a PPB statement, officers responded to a call of a collision involving a man on a bicycle. When they arrived they found a 48-year-old man who was suffering from non-life-threatening injuries. "The bicyclist told police that he was riding his bike westbound on Weidler in the bike lane when a vehicle traveling westbound turned right into him, then continued northbound on 104th Avenue," reads the statement.
The man on the bike was thrown up and over the hood and then slammed onto the ground. He was transported to the hospital for treatment.
The suspect vehicle is described as a silver Subaru or Honda, possibly 2004 or 2005 model, four-door hatchback, with a tail or spoiler on the rear.
Anyone with information about this hit and run is asked to contact the Traffic Investigations Unit at (503) 823-2103, reference Portland Police Bureau Case Number 12-87176.