Cross Crusade series kicks off Sunday
Cross Crusade series kicks off Sunday
The Cross Crusade race series (brought to us by River City Bicycles), the grand-daddy of them all, is set for another wild kickoff event this Sunday at Alpenrose Dairy in Portland's southwest hills. Last year nearly 1,500 people showed up to race at the Crusade opener, which makes it one of the largest cyclocross races (in terms of participation) in the world. With record field sizes at races so far this season, official are expecting another massive turnout.
Keeping with their fun, irreverent, and creative traditions, the theme of this year's Crusade is "Through the Ages." Event promoters mailed out a poster/brochure to past racers this week that included a hilarious mock-up of the famous Washington Crossing the Delaware painting by Emanuel Leutze. The mock-up is called Cyclocrossing the Delaware and the figures in the painting are organizers and volunteers from the Crusade's producers, Vivo Productions. Crusade director Brad Ross plays the role of Washington.
Check it out (and yes, that's a keg in the river)…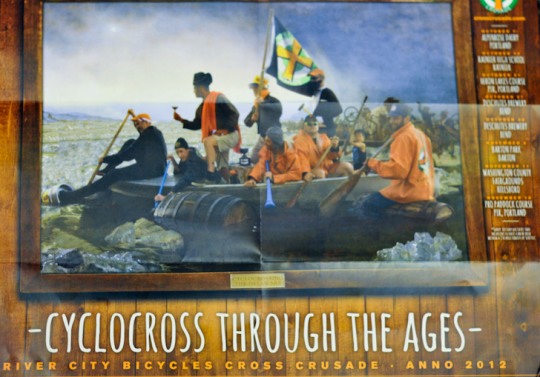 In a sign that the series shows no sign of slowing down in its 15th season, Ross introduced several big-name presenting sponsors this year; Rapha, Cannondale, Icebreaker, and Sage Cycles.
As for Sunday's big opening race, Ross says, "It is a great party and we want all of you to come and have fun." If you plan to race (and you should!), Ross adds that, "We have a crew working feverishly on the course all this week to make sure it will exceed any expectation you might have."
One of the highlights at Alpenrose (and the seven other races in the series) is the Kiddie Cross event. In recent years, the Bicycle Transportation Alliance has stepped up to take over the event and it has blossomed into a huge turnout. Sometimes several hundred kids show up! The BTA has announced some exciting changes this year, including no more medals. Instead, kids will get a special sticker for their number plate each race they complete and they'll be encouraged to collect the entire set. Also new for Kiddie Cross this year is support from local companies Speedvagen and Portland Design Works.
Ross and his crew have recognized that Kiddie Cross is a "huge deal" so they've created a completely separate course for the little ones this year.
Other things to look out for this year is a new "Grudge Match" feature where you can pick a rival and then see how you stack up against them. The Crusade will work with OBRA officials and AthletePath.com to compare results and determine bragging rights.
And of course, later this month on Halloween weekend, the Crusade will make a pilgrimage to Bend for the big 'Cirque du Cycling: Halloween in Bend' festivities.
Hope to see a big crowd on Sunday. There will be lots to do and see (including food cars, exhibitors, lots of friendly people, and so on), and it's great for the whole family. Check out CrossCrusade.com for all the info.
— For more cyclocross fun, check out the Season Kickoff Party being hosted by Trusty Switchblade at Velo Cult Bike Shop tonight. There will be a team jersey fashion show and more shenanigans. The action starts at 7:00 pm. Check out the event on Facebook.