Citizens chase down thief to recover stolen cargo trike
Citizens chase down thief to recover stolen cargo trike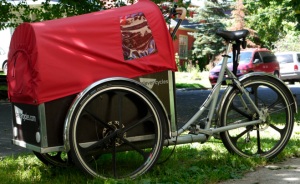 Stolen, then re-united with its owner.
(Photo: Tanya Barham)
A distinctive trike that was stolen on Tuesday is now back in hands of its owner.
Buckman neighborhood resident Tanya Barham imported the Christiania trike from Denmark in 2006. When it was stolen from outside of a building at East Burnside and 8th, thieves not only got an expensive and rare cargo bike, they also took her only form of transportation. Tanya doesn't own a car and she uses the bike to get to work and to take her daughter to school. Hoping to get it back, she quickly posted the information to Craigslist and listed it on BikePortland. Her many friends in Portland also spread the word through social networks.
Just before noon today, Tanya shared that the bike had been recovered. "Several people who saw my postings on Craigslist, saw a man riding the bike down 39th near Woodstock. Two men chased the perp and others phoned in the sighting. The police apprehended the man and the bike is back."
Tanya says the trike was, "vandalized and pretty significantly damaged"; but fortunately it's fixable.
Tanya's story underscores the ongoing problem of bike theft in Portland. So far this month, 104 bikes have been listed as stolen on our listings alone. On Tuesday, Tanya was one of eight people who had a bike stolen. That same day, thieves hit the racks at Beverly Cleary school in Northeast Portland.
Remember a few tips to keep your bike safe: Never use a cable lock and try to always lock up in a high-visibility, well-lit location.