A few more reasons to attend BikeCraft this weekend
A few more reasons to attend BikeCraft this weekend
This weekend!
The eighth annual BikeCraft is this weekend! If you're not already planning to be there, what I'm about to share should seal the deal. In a nutshell, it's an event you do not want to miss.
Here are just a few reasons…
— North St. Bags will be in the house doing on-site sewing and production. Curtis Williams debuted his bags at BikeCraft 2009 and he's built a thriving business in the years since. At BikeCraft this weekend you can get one of his Hip Pouches ($55), Wallets ($25), or Salmon Rolls ($38, top tube bad and tool roll) made by Curtis in whatever color you'd like — made right before your eyes! To make sure you get a spot in line, fill out the form on the North St. website.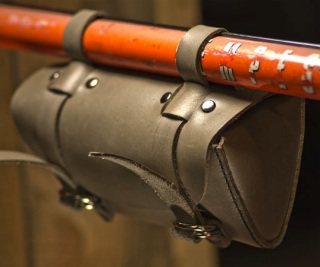 Nomad Unlimited's leather tool bag.
— The Filmed by Bike Lounge will be bigger and better this year. The Lounge is a place to chill out, grab a beer, some popcorn or lunch, chat with friends on the couch, and catch some great bike movies on the big screen. The Filmed by Bike crew will also be unveiling their new 2012 event poster, created by none other than local artist Matt Cardinal (of Signal Cycles fame). There will also be a PDX By Bike concierge desk where bike ambassadors will be available to answer all your Portland biking questions.
— Don't miss the after party on Saturday night at Velo Cult. The fun starts at 7:00 pm and there will be live music by Portland's bikey ukelele band Honkytonk Prison.
— Pedal Bike Tours is leading a BikeCraft Kickoff Ride. The ride meets at 10:45 am on Saturday (12/1) and starts with coffee and donuts at Pedal Bike Tours' store at 133 SW 2nd Ave.
— In addition to all your favorites, there will be many new faces behind the booths this year. They include: Fabric Horse, a maker of very smart looking items who's coming all the way from Philadelphia; Portland-based Nomad Unlimited, who makes an assortment of handcrafted leather bike accessories; Fillettante, who will share bicycle-inspired jewelry; and several others. See the full vendor list here.
These are just a few reasons to be at BikeCraft. Admission is free and it's open from 11 am – 6 pm this Saturday and Sunday at Sandbox Studio (420 NE 9th Ave). See you there!
(Disclaimer: BikePortland is proud to be the presenting sponsor of BikeCraft)
Share and Enjoy