Pedal Bike Tours cargo trailer stolen from northeast Portland street
Pedal Bike Tours cargo trailer stolen from northeast Portland street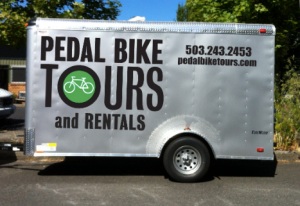 A cargo trailer belonging to Pedal Bike Tours, a bike rental and tour company based in Portland, has been stolen.
According to company employee Scott Klees, the trailer is a 12-foot long, single-axle, Continental Cargo Trailer. It was stolen off the street near the corner of NE 7th and Church on the night of Monday, December 3rd. Here's more from Klees:
"… one of our guides used the van and trailer last Monday after BikeCraft to haul the garbage from BikeCraft out to the dump. Afterwards he parked both the van and the trailer near the corner of NE 7th and Church St. The following Saturday morning, the same guide went to retrieve the van and trailer for a tour only to find the trailer gone and the van moved slightly from where it was parked originally."

The trailer was locked to the hitch of the Pedal Bike Tours van. Klees assumes the thieves cut the chains and hooked the trailer up to another vehicle.
Here are a few more photos: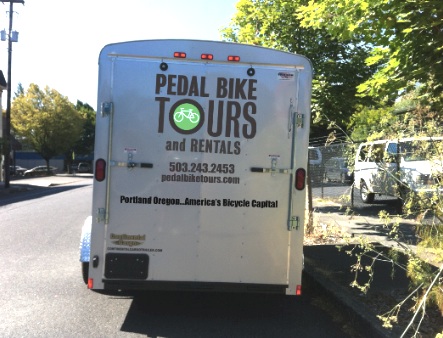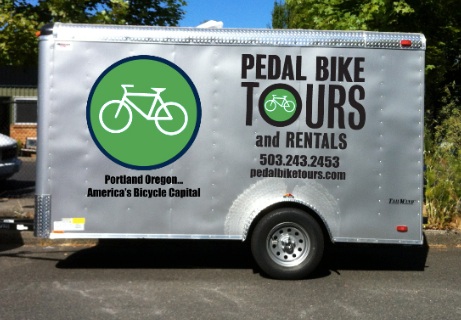 Anyone with information should call Pedal Bike Tours at 503-243-2453 or send an e-mail to info@pedalbiketours.com.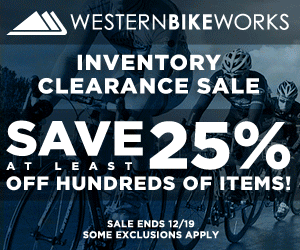 Share