Bike theft roundup: Stolen SoupCycle, unscrewed staple, and a suspect seller
Bike theft roundup: Stolen SoupCycle, unscrewed staple, and a suspect seller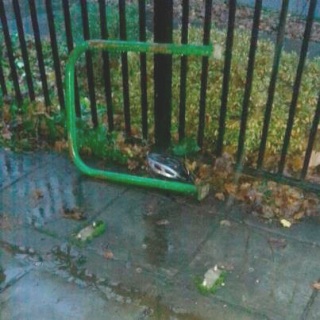 Thieves unscrewed this staple rack.
Got a few bike theft stories that deserve some attention so I figured I'd round them up.
We all know bike thieves are mean; but they are also getting increasingly clever. Marion Rice sent in a photo of the bike parking staple her daughter's bike was parked to outside their daycare. The thief (or thieves) unscrewed the rack and took the bike. This isn't a big surprise to us, as we've covered the unscrewing method in the past.
First, our friend Susan Otcenas shared the news of a particularly sad theft. Portlander Asta Chastain works as a SoupCycle employee, delivering meals by bike throughout the city. Her 1990s Specialized Hard Rock mountain bike (which happened to be photographed in a recent BikePortland story) was stolen while it was attached to her Soup Cycle trailer. Susan says Asta lots a lot of gear and tools with her bike, so this is a big loss. Check out this post for more information and keep your eyes peeled for her bike.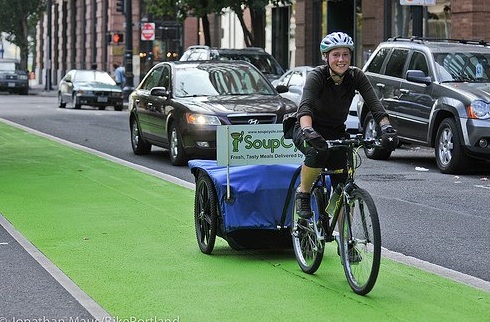 And finally, consider this next one a lesson on how to read — and be wary of — Craigslist postings. A reader sent a link to this sale post thinking that it looked very fishy. When I posted it to Twitter, most everyone agreed. Read it below and judge for yourself:
Howdy everybody
Happy holidays to all
I have way too many bikes to list them individually so I apologize
If u come to view/purchase u will understand
I have road ,mountain, hybrids, tagalongs,tandems,trailers and more
All big name brands- no cheap or junk bikes. Sorry no kids or bmx
All bikes recently serviced/rebuilt ( I am a bike mechanic so you know u r getting quality)
Very unusual collection – most bikes look new
If u really need a bike don't miss this. U need to call
If you r just looky looing or low balling please don't waste my time
Cash only- bring it with u or u will NOT be allowed to view
(sorry but this is due to all the looky loos)
Please call323-327-8719 anyday 9 am-9pm
This may be your chance to get a killer deal- don't wait!
Be smart out their folks. Keep your wheels safe.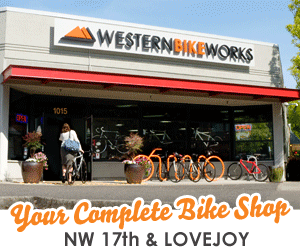 Share