Portland Copwatch to host 'Your Rights, Bikes and the Police' seminar
Portland Copwatch to host 'Your Rights, Bikes and the Police' seminar
Interactions happen. Knowing the law and
your rights can make them smoother.
(Photo © J. Maus/BikePortland)
Portland Copwatch announced a seminar event today that's aimed at people who ride bikes. "Your Rights, Bikes and the Police" will be an informational event that will feature local attorney Mark Ginsberg and members of Portland Copwatch, a non-profit, "grassroots group promoting police accountability through citizen action."
Here's more about the event:
"Do you have to carry ID when you ride? What kind of lights and reflectors are required by law? What do you say when an officer asks to search you? If you've ever wondered, come to this seminar and get answers to these and many other questions!"
The issue of how to relate to police officers while riding your bike is one that demands knowledge and understanding. While a solid grasp of the law might not be enough to avoid a messy situation (as emotions on both sides during an event or a traffic stop can quickly trump rational thought), a greater understanding of the law is always needed.
Mark Ginsberg is a Portland lawyer who specializes in bike-related cases. He goes way back in Portland's bike scene and has extensive experience in representing people in bike injury and law cases. Ginsberg has also participated in many bike events over the years from races to bike parades, and Critical Mass. He also has a long history of working with the Police Bureau. Ginsberg organized a summit between the Portland Police and Zoobombers in 2007 after a clash about riding on Highway 26, he represented Ayla Holland in the infamous fixed-gear brake case, and he represented Ben Ramsdell in the Clinton Street road rage case of 2009.
The Portland Copwatch event is free and takes place on Monday, February 18th from 7:00 to 8:30 pm at Velo Cult Bike Shop (1969 NE 42nd). More info here. The flyer is below: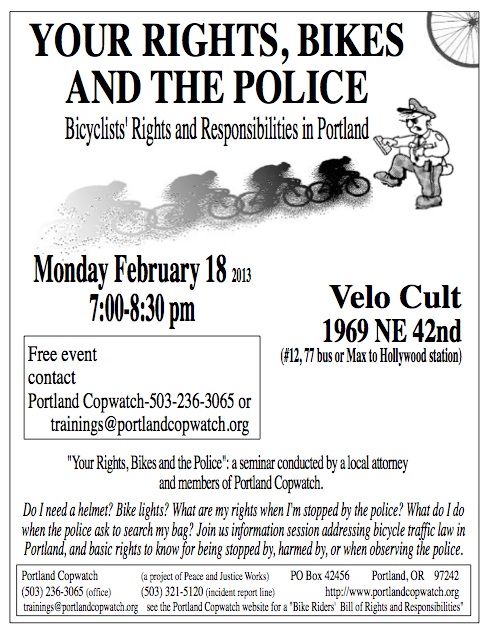 Share