The Monday Roundup
The Monday Roundup
Lookin' good Al Roker.
Welcome to our time-honored Monday morning tradition of rounding up the week's bike and transportation news…
– Aspen, Colorado is poised to be the latest city to enact the "Idaho-style" stop sign law for people riding bicycles.
– If you're a parking policy wonk, you've got to be encouraged that the scourge of free parking was part of the dialogue when a major storm approached the Northeast.
– The venerable BBC weighed in on "why cyclists enrage car drivers." Their theory? "Motorists hate cyclists because they think they offend the moral order." And of course you must read the rebuttal by Carlton Reid on IPayRoadTax.com.
– Via Copenhagenize, there's a trend in Germany dubbed Autofasten, which translates to giving up one's car during Lent. The initiative is being promoted by the environmental officers of the Catholic and Protestant churches in Austria.
– Mandatory, all-ages helmet laws are generally considered a bad idea. But that doesn't stop states from adopting them. For more background, the League of American Bicyclists offered a state-by-state primer as part of their Bike Law University series.
– With a new mayor coming to town in New York City, there remains "anxiety" over the future of their huge gains for bicycling made during the Bloomberg era.
– Cool video of the week was posted by BikeHugger (via a few other sources). It chronicles a bike made out of cars:

– Fellow bike blogger Tom Fucoloro posted an amazing bike theft recovery story on Seattle Bike Blog.
– Seems like it doesn't even need to be said at this point, but if you needed more proof that cities should not bend over backwards to accomodate cars, read this Atlantic Cities article about new studies validating the fact that,Cars and Robust Cities Are Fundamentally Incompatible.
– Perhaps you heard about Obama's "Fix-it First" approach to infrastructure laid out in his recent State of the Union Speech. The WashCycle blog says it could be a boon for biking.
– You know Al Roker? The ubiquitous weather guy from the Today morning show? Turns out he has lost a ton of weight recently and he rides a Brompton to work through the streets of Manhattan. And it does it in style (and with a protein shake). Go Al!
– While some of us debate whether or not mandatory helmet laws kill bike share programs, the bike share industry is moving full steam ahead. A Canadian news blog offered a sneak peek at a prototype of a bike helmet vending machine said to be coming to Vancouver's bike share system (which incidentally is being managed by Portland's Alta Bicycle Share).
– I can't read a word of this blog post from the Netherlands, but I do know that it shows former President Bill Clinton receiving a cargo bike at a charity event. (For the cargo bike nerds, it's an Urban Arrow electric assist bakfiets – so says the company's owner, who emailed us this link).
– Streetsblog DC uncovers the shocking truth about a provision in the recent transportation bill (MAP-21) that could become a feeding frenzy for highway builders — a "National Freight Advisory Committee" that could call for 3,000 new highway miles. Ouch.
– Automobile lobbying group, AAA continues, "to advocate for antiquated car-centric urban policies that will keep DC's transportation options firmly mired in the 1950s," so says the respected Greater Greater Washington blog. (We wonder if AAA PR and communications director Yolanda Cade will address any of that during her keynote speech at the National Bike Summit.)
For more great links, follow us throughout the week on Twitter via @BikePortland. And feel free to send in good stories you come across.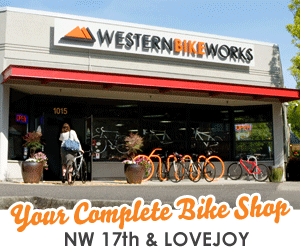 Share