Two local bike shops set to host fashion-focused events
Two local bike shops set to host fashion-focused events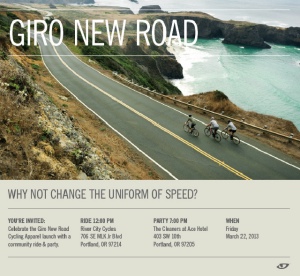 Flyer for Giro New Road launch event in Portland.
Seems like everywhere you turn these days there's news about bike fashion. Whether it's featured at the National Bike Summit or making major news headlines, bike brands and major fashion labels are falling over themselves to get a piece of the growing apparel pie.
Portland is an epicenter of stylish cycling so it's no surprise that we've got our share of fashion-focused events. Two of them have come on my radar recently…
This Friday River City Bicycles will host a launch event for Giro's "New Road" apparel line. Giro, a brand known to most people for their helmets, launched their new clothing line late last month and it's being called a potential "paradigm shift" by the bike media. A local rep for Giro explained the new line as, "Giro's take on a changing the traditional road clothing (lycra jerseys and such) to something a bit more understated but still performance based." New Road features merino jerseys that look more like business-casual t-shirts.
Interestingly, Giro's marketing vibe — with its focus on riding and exploring with friends rather than racing — looks like it was inspired by Rapha. Rapha, with its North American base in Portland, has made huge inroads in the bike fashion market by thinking of themselves as "a lifestyle brand that happens to think bicycling is a great way of life."
Giro will launch New Road in Portland with a Community Ride tomorrow (Friday, 3/22) that meets at River City Bicycles (706 SE MLK Jr. Blvd) at 12:00 pm. After the ride, they'll host a party at 7:00 pm at The Cleaners at Ace Hotel (403 SW 10th Ave). Everyone is invited.
Then next week (3/27), Universal Cycles is hosting a "Ladies Night" event to preview the latest and greatest items in the Terry Cycling apparel line. Terry is a legendary brand in the bike world. The company's founder, Georgena Terry, was a keynote speaker at the National Bike Summit this year and is considered a pioneer of women's bicycling. "Terry cycling apparel is made for women and designed by women. Rally all the betties and enjoy a night out… bike style." reads a flyer for this event.
The event will take place at Universal Cycles (2202 E Burnside) from 5-7:00 pm on Wednesday March 27th. A Terry saddle will be raffled off.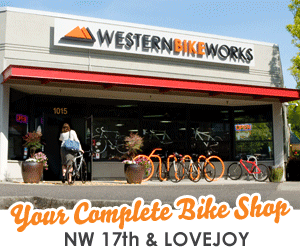 Share