Activists target Portland's 'worst polluters' with mass bike ride
Activists target Portland's 'worst polluters' with mass bike ride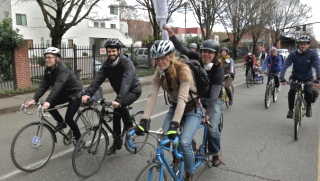 Activists took to the streets on bikes
to protest local corporations.
(Photos: Hart Noecker)
"While often lauded as being a bastion of sustainability and forward thinking green politics, Portland houses some of the most ecologically destructive corporations on the planet."

— Hart Noecker, activist and author of Mismanaging Perception
That quote sums up the motivation behind a new series of group bike rides being organized by environmental activists who have been spurred into action by their opposition to the Keystone XL oil pipeline.

According to one of the ride's participants, Hart Noecker (who's also a noted anti-CRC activist and organizer of the PDX Bike Swarm), the event attracted 60 people who rode en masse from Lloyd Center to downtown Portland. Along the way, the riders stopped inside offices of various corporations that they believe have ties to tar sands oil interests.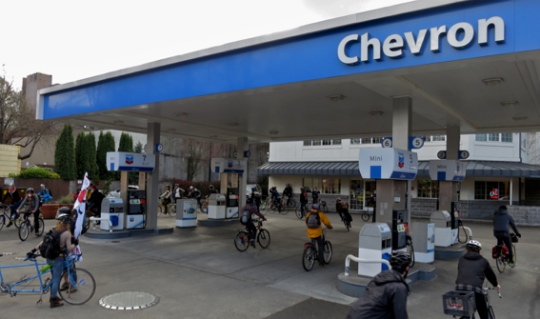 Swarming a Chevron station.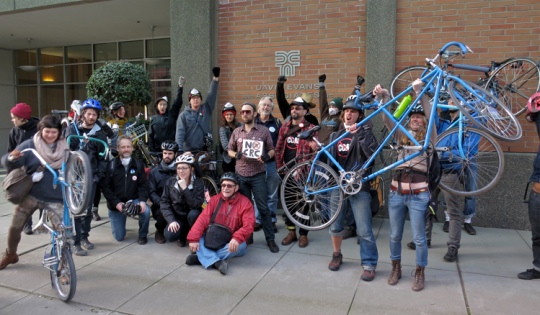 Group shot outside the offices of David Evans and Associates.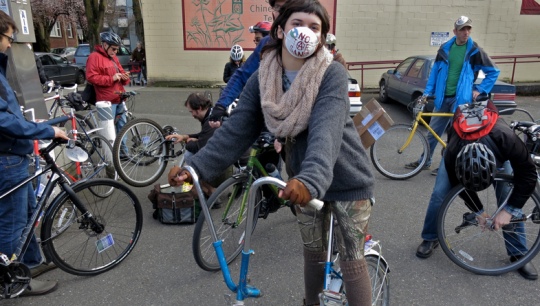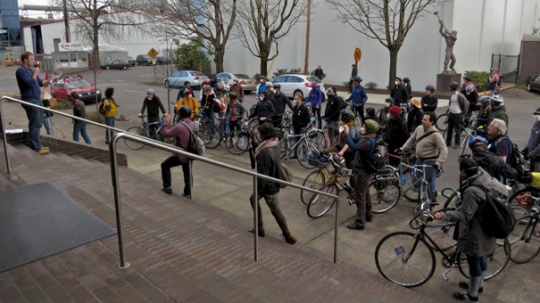 Activists listen to a speech given on the steps of ESCO Corp.
The riders stopped at the ESCO Corp factory in the northwest industrial area. ESCO is a company they say is "invested heavily in manufacturing the drill bits and dragline buckets needed for ecologically devastating tar sands extraction, strip mining, and hydraulic fracking." To raise awareness of their concerns, people on the ride made speeches outside the ESCO offices and then hand-delivered a "letter of condemnation" to an ESCO rep inside.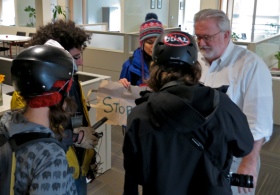 "Returning" a bag of coal to Brian Gard.
The riders also "swarmed" a Chevron gas station and made a stop outside the headquarters of the Portland Business Alliance, an organization they resent for their "1950s car-only rhetoric" and for supporting "auto-centric infrastructure like the Columbia River Crossing." Upon hearing that U.S. Congressman Earl Blumenauer is slated to speak at a PBA luncheon next week, they stopped and dialed his office on-the-spot to express their disapproval. At the downtown PR firm of Gard Communications, whom the activists accuse of being paid to represent an Australian company that is lobbying to build a coal export terminal in our region, a few riders entered the office and delivered a bag of coal to Brian Gard himself. The ride also stopped at the offices of planning firm David Evans and Associates, which has made millions off a consulting contract for the CRC project.
You can see a full recap of the ride and watch videos of the demonstrations and office visits on the Mismanaging Perception blog. And if you missed the ride, Round 2 is slated for tomorrow at 5:30 pm. Meet at Holladay Park in the Lloyd District at 5:00 (FB event listing).
To give you sense of the perspective these activists have, here's a description of tomorrow's event:
"There will be good music and merriment to accompany our sense of outrage at people who would profit from destruction of the planet. It might sound strange, but there's no better way to demonstrate the absurdity of our current societal course than to contrast it with positive energy."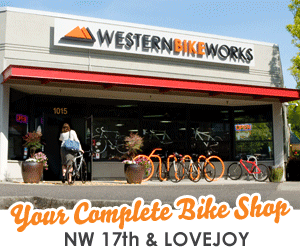 Share