10th Bunny on a Bike ride is this Sunday
10th Bunny on a Bike ride is this Sunday
On Easter Sunday, March 31st, people throughout Portland will partake in a time-honored holiday tradition: The Bunny on a Bike ride!
This year the ride celebrates its 10th anniversary and given the weather forecast I have a hunch it could be one of the largest gathering of bunnies on bikes in Portland history. Ride organizer Carye Bye has planned an easy and flat 45 minute ride through the "big fun labyrinth" of Ladd's Addition. "Let's ride and get lost exploring the diagonal streets, rose diamonds, and hidden alleys," reads the ride announcement.
After the ride there will be a community potluck at Abernethy School Park (SE Elliott and Birch). Meet at the school at 2:30 and ride out at 3:00. Check out more details on the Facebook event page.
And, since all riders are encouraged to dress up like bunnies, check out my photos from past years for some inspiration…
For more of the history behind this ride, Carye Bye has put together a year-by-year recap and photoset going back to the first event in 2004 on her Flickr page.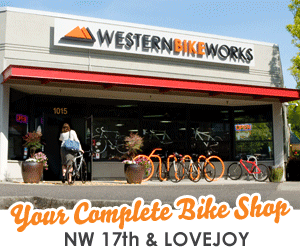 Share