The Monday Roundup
The Monday Roundup
Movie-makers in LA are whining over green lanes.
(LA Times screenshot)
Welcome to Monday. If you missed some of the great bike stories last week, fear not: The links below will bring you right up to date…
— One of pro bike racing's biggest stars has pinched into some controversy after grabbing the rear-end of a podium girl following the Tour of Flanders on Sunday.
— The Project for Public Spaces calculated the Walk Score for each state's DOT headquarters. It wasn't pretty.
— The debate over how bikeshare can/can't coexist with bike rental shops is one that just won't go away.
— Best Onion article in a long time focuses on a new report from the US DOT that finds it's, "pretty goddamn shocking that we let citizens operate 4,000-pound machines capable of going 200 mph."
— A daily newspaper site from the Netherlands warns of "bike chaos" in Amsterdam due to streets clogged with bikes. I might be headed there in a few months so I look forward to delving into this issue myself.
— Seems like there's a growing awareness around the world of the many societal ills brought on by a car-dominated transportation system. On This Big City, a London livable streets activist opines about the inherent inequality of such systems (includes neat graphs!).
— Here's a fun resource for all you cargo-bike lovers: The Museum of Tradesman's Delivery Bikes.
— Check out this fantastic hack that shows you how to make a kids balance bike out of a couple IKEA bar stools.
— More giveaways for electric cars. When will cities realize that "green cars" are still cars and come with many/most of same negative externalities that gas-guzzlers have always had?
— Richard at Cyclelicious delves into the oft-repeated stat that 40% of all trips are two miles or less. What's amazing is that when you look at car-only trips, that number rises to 69%.
— It's the same old "debate" playing out in San Francisco. The City wants to improve bike access on an important downtown street and some folks act like the sky is falling. In this case, the LA Times shows their lack of understanding about transportation issues by bringing up SF's high-profile manslaughter case of a man on a bike who struck and killed a woman who was walking on the street.
— And here's a critique of that LA Times piece by a San Francisco bike blogger.
— And the LA Times struck again when they gave space to another non-troversy: This time it's about movie location scouts pushing for removal of green bike lanes downtown because they say it makes it hard to shoot old-timey movies.
— A really solid National Bike Summit recap from an unlikely source: Noted national bicycle racing announcer and advocate Richard Fries.
— Speaking of the Summit, here's an update on the lobbying effort we took part in on Capitol Hill: "Dozens in Congress Press for Nat'l Bike and Pedestrian Safety Goals, Measurement."
— And just this morning, US DOT Secretary Ray LaHood announced that Tampa and Minneapolis will host the bike safety summits he promised to hold.
— In San Jose, CA a group of folks have inked a deal on a permanent cyclocross arena. I love the sound of that.
— Looks like our friends in Washington are really starting to realize what a terrible project the CRC is.
— From London, a cautionary tale about how narrowing roads might not always be a great idea for bicycling.
— The World Health Organization (WHO) released a new report on road traffic injuries and it's equal parts alarming, depressing, and frustrating.
— Everybody's talking about the Bike Spike, a new product on Kickstarter that promises to tap into your phone's GPS and accelerometer to do all types of useful stuff — from theft recovery to automatically crash reporting.
— Did you know that a bill in the Oregon House would create a massive "private tollway" freeway project from I-5 near Wilsonville through Willamette Valley farmland and out to the coast?
— Great. Portland's parking controversy has gone national with an AP story titled, Dilemma for Bike-Crazy Portland: Parking for Cars.
— And we'll end this week with a breath of fresh air for just down the valley in Eugene, Oregon. That city's main daily newspaper, the Eugene Register-Guard penned an editorial titled making the case that "Bicyclists aren't free riders" and the "Notion that bicyclists don't pay their way is wrong."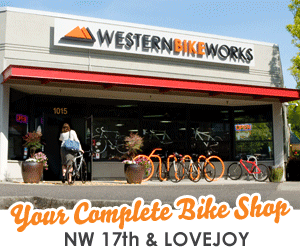 Share