Racers hunt for fast times at Sunday's Crank Time Trial
Racers hunt for fast times at Sunday's Crank Time Trial
This racer relied on his spidey-sense.
(Photos: Judd Eustice)
Portland's racing season has gotten off to a great start. Yesterday, 160 riders put off their Easter festivities to test their fitness at the first event in the Crank Time Trial series at Portland International Raceway. The field doubled in size since its inception two years ago, and promoters Chad Smeltzer and Justin Tutor anticipate even larger fields in the next race on Memorial Day, May 27th.
The race, once again blessed with pleasant weather, provided an ideal setting for fast competition. The 12-mile closed course (6 laps x 2 miles) with light winds and no impediments to avoid, enabled everyone to push the pace and some blistering times were recorded.
The fastest leg on Sunday belonged to Colby Wait-Molyneux (Pro 1/2), who completed the course in 22:50.43 (that's a sustained speed of about 30 mph!). This beat his previous record time of 23:29 that he put down two years ago. His next fastest competitor was William O'Donnell (Pro 1/2) who cruised in at 23:44.82.

The competition was impressive in most categories. The Men's Masters 40+, for instance, had over 80% finish below 28 minutes. The top ten Men's Masters 60+ all had times within two and a half minutes of each other that would have been in competitive in all categories but Pro 1/2.
Leia Tyrrell led all women with her time of 25:41.40, which beat last year's record of 26:12.99 set last year by Jessica Cutler.
Photos: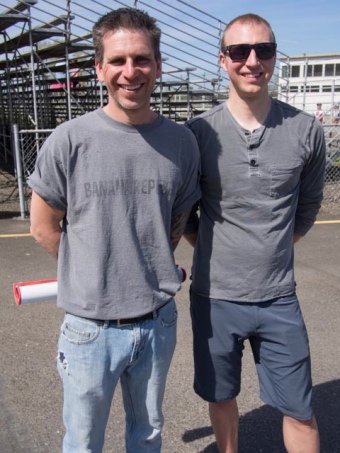 Event promoters Chad Smeltzer and Justin Tutor.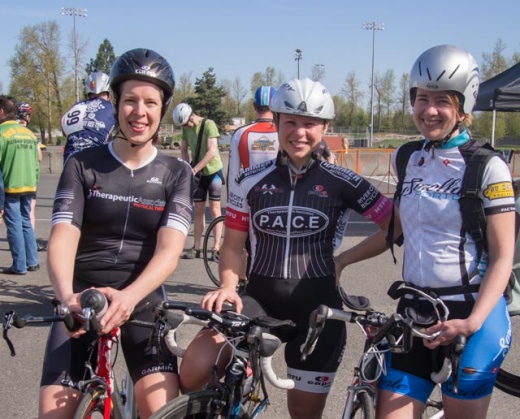 L to R: Sarah Tisdale, Alison Medellin, and Karin Wohlert.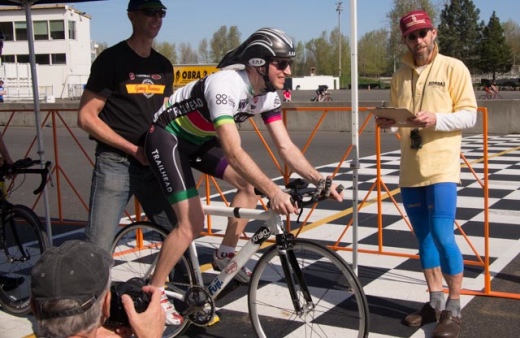 At the starting gate.
As mentioned before, field sizes have grown considerably since this time-trial event began at PIR two years ago. The Eddy Merckx men's category (named after the legendary racer by the same name), for example, had 13 racers last year and that number doubled to 23 this year. This open field (meaning any age or skill level could enter) was very competitive as the top racer, Brian Kesselman, had the fastest time of 26:48.46 with the top ten finishing within a minute-and-half.
If you've ever been curious to participate in a "race of truth" against the clock, the Eddy Merck category is an ideal place to start. There's no need to invest in a special time-trial bike or an aerodynamic helmet and outfit. In fact, these items are not allowed in the Eddy Merckx category. This is basic time-trialing. Because of these restrictions, I'm sure we'll be seeing more growth in time-trial fields as the seasons wears on.
— Judd Eustice is our new racing contributor. See more racing coverage here.