First look at 'Biking Portland' guide book
First look at 'Biking Portland' guide book
With the release of Biking Portland: 55 Rides from the Willamette Valley to Vancouver, anyone interested in discovering great rides in and around Portland has another excellent resource to turn to.
Written by Alaska native Owen Wozniak and published by The Mountaineers Books, Biking Portland offers much more than cue sheets, maps, and ideas on places to ride. Wozniak has a deep appreciation for natural areas (his day job is project manager for the Trust for Public Lands, a non-profit conservation group) as well as the metro area's history, geography and politics. "I've tried to sneak as much of that stuff between the covers of a biking guide book as possible," he says.
"I think it's a great fit because a bike is actually a great way to experience some of the more wonky stuff (urban planning, environmental conservation) that makes our region special."

For instance, here's what he includes on his Northeast Portland ride when it comes to Irving Park:
"Captain William Irving acquired all of this land as a 635-acre claim, stretching west to the river, in 1851. Forty years later, Portland annexed the villages along the east riverbank. Within a few years, streetcar lines extended across the river and north toward Irving's land… From the beginning, Irvington was designed to be elite, with large house lots. Prosperous merchants and lumbermen built spacious mansions, many of which still stand."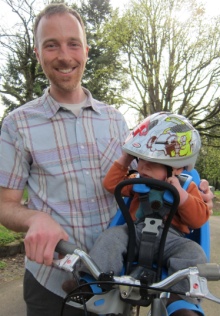 Owen and Lee Wozniak.
(Photo: The Mountaineers Books)
And I like how Wozniak (who describes himself as "a daily bike commuter and casual recreational rider, not a committed road rider") doesn't shy away from current, hot-button issues, which gives readers a deeper sense of the neighborhoods they're riding in. About the Northeast Alberta area, he writes:
"Long a center of the African-American community, Alberta started drawing white Portlanders priced out of Southeast in the late 1990s… The change is clearly not to everyone's liking, most obviously the older inhabitants being forced or induced to leave by rising rents and home prices. Even some of the new residents would like to slow the pace of change…"
And he explains the scars of gentrification along the Williams/Vancouver corridor:
"Beginning in the 1960s, downtown politicians and bureaucrats decided to "renew" Albina's "blighted" areas with bulldozers. Residents fought back, with mixed success. The decades-old vacant lots along N. Vancouver and N. Williams Avenues, cleared by the city in anticipation of redevelopment that never came, bear witness to the struggle… Now, as high-end boutiques and trendy restaurants replace African-American businesses and churches along Williams, Vancouver, Albina and above all Mississippi Avenues, Portlanders wring hands about gentrification."
Wozniak also shines in his knowledge of our region's more rural areas. In his description of riding on the Multnomah Channel on the St. Helens to Scappoose ride, he writes,
"When Lewis and Clark passed through this area two centuries ago, it was a vast grassland roamed by elk herds. Birds gathered in flocks so large they darkened the sky — much to the astonishment and annoyance of the explorers, who struggled to sleep through the cacophony."
The book is full of interesting background and modern-day context on the places that make our region unique. And what better way to explore our history — and watch history unfold — than from the seat of a bicycle?
Another thing I like about this book is that all the rides were designed with public transit in mind. "I think that's consistent with the region's ethic," says Wozniak, "I know lots of people who have made a long weekend visit to Portland, or a business trip, and have stayed downtown without a car."
Grab a copy of this book and start exploring!