Downtown Portland bike theft reports plummeted 60% last year
Downtown Portland bike theft reports plummeted 60% last year
Locking up is looking safer.
(Photo © J. Maus/BikePortland)
Here's some great news for downtown Portland: it seems to be getting safer for parked bikes. Much safer.
You might have seen recent media reports that Portland bike theft reports dipped 13 percent citywide last year, according to a new Portland Police Bureau report. But what you didn't read was that fully half of the drop came from a single neighborhood: downtown.
In 2011, one in 10 bikes reported stolen in the city was lifted from downtown Portland. Last year, the ratio fell to one in 20.
It comes out to 150 fewer bikes swiped from the city's densest neighborhood, down from about 280 in 2011 to 107 in 2012. Authorities say they don't know what caused such a sharp and localized drop.
"Of course we'd love to say that it's because of the increased awareness we have provided on securing bikes," police spokesman Sgt. Pete Simpson wrote in an email. "But very hard to quantify."
In police statistics, "downtown" includes the longtime hub of local bike theft: Portland State University. But theft is dropping on campus, too.
PSU Transportation Options Director Ian Stude said PSU's own reports declined from 65 in 2011 to 45 in 2012.
"The PSU Bike Hub only sells U-locks and heavy chain locks. No cable locks."
— Ian Stude, PSU Transportation Options Director
Earlier this year, we shared an interesting campaign by a PSU student to mark the location of stolen bikes with a red strip of cloth, tape or marker. In 2010, Stude and others launched an on-campus bike shop that has also worked to make the area less lucrative for bike thieves.
"The PSU Bike Hub only sells U-locks and heavy chain locks," Stude wrote. "No cable locks, as this is the most frequently defeated lock in cases of bike theft on campus."
The huge drop in downtown thefts last year could just be a statistical fluke, or it could mean that people are simply not bothering to report bike theft using the police's online reporting tool. (Our own citywide stolen bikes listing, which the police also recommend as a tool for recovering lost bikes, drew 187 more reports in 2012 than in 2011, but from a smaller sample size.)
Whatever the cause, here's what last year's police report showed were Portland's worst neighborhoods for bike theft:
And here's the chart for this year: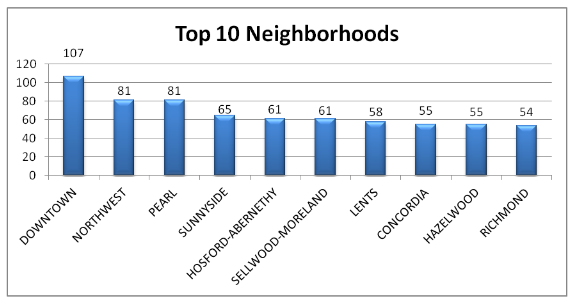 The police didn't prepare an annual bike theft report until 2011, which was also the first full year for their online crime report tool. But in 2010, the Mercury reported that downtown has long been by far Portland's most bike-theft-prone neighborhood:
The figures for 2010, above, are so low because they only include data through May. It's also worth noting that theft seems to be rising in some other neighborhoods, such as the inner Northwest area.
As the charts above show, downtown remains a common spot for most local bike thefts. To protect your vehicle, secure it indoors, protected by a heavy lock, or lock its frame to a secure outdoor fixture; find and record your bike's serial number; and if it's stolen, report the loss to the police and list it with us to maximize the chance that you get it back.