SE Cesar Chavez Blvd closed for three weeks
SE Cesar Chavez Blvd closed for three weeks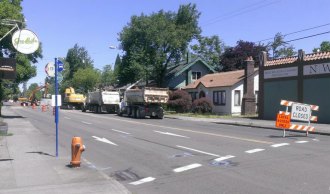 Cesar Chavez is closed for the next 21 days.
(Photo: Joe Bike)
A City of Portland sewer project has led to the closure of SE Cesar Chavez Blvd (39th). The street is closed from Hawthorne to Division 24/7 beginning today through July 18th.
Cesar Chavez is a high-volume arterial for people who drive through the area and the City has signed detours that direct drivers to SE 30th and 50th avenues. However, we're already getting reports that many people are driving on SE 41st and 34th, both of which are popular streets for bicycling. Sharon Martell shared with us via Twitter that people riding bikes should be especially careful on 41st and that "most cars are diverting there." Teri Solow added that there are also a "bunch more cars on 34th".

As for bicycle access on and across Cesar Chavez during this closure, the City has specifically kept the SE Lincoln neighborhood greenway open as a bicycle crossing. We have also heard from Joe Bike owner Joe Doebele, whose shop is located at the corner of Cesar Chavez and Lincoln. He said City crews are waving people on bikes through Cesar Chavez but that it's essentially carfree. "Ride 39th not 41st," is his advice.
The City's website says, "In the construction area, people on bicycles are advised to cross Cesar Chavez at Lincoln."
Linc Mann with the Bureau of Environmental Services told us that the contractor is allowing local access only on Cesar Chavez and that through traffic is being diverted off at Lincoln and Hawthorne. Also note that the intersection of Cesar Chavez and Harrison is closed to all traffic. Check out the map below for more info…
This is a major closure of a very busy street in an area with a high volume of bicycle users. Please let us know what you're seeing out there and how the detours are working out. If you see major safety issues, do not hesitate to email safe@portlandoregon.gov or call the project hotline at (503) 823-2663. For more info, see the project website.