Why bicycling isn't allowed on a new off-street path in Clackamas County
Why bicycling isn't allowed on a new off-street path in Clackamas County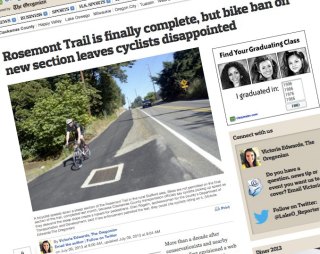 The newly completed Rosemont Trail, a paved path that connects downtown Lake Oswego to West Linn in Clackamas County, should be cause for celebration — except for that fact that bicycling is banned on about half of its entire length.
After The Oregonian covered this story yesterday, we got several emails from readers who were disturbed by this lack of bicycle access. The ban is especially unfortunate given that the adjacent Rosemont Road is a narrow, high-speed thoroughfare without wide shoulders for bicycling on. According to The Oregonian, many people expected the path to allow bicycling, and there is considerable consternation now that it doesn't. Hoping to better understand the background and context of this project, we reached out to Clackamas County and the group who paid for and created the trail, The Columbia Land Trust.
According to Clackamas County Transportation Engineering Manager Mike Bezner, there was never any intention of allowing bicycles on the path. "The [Oregonian] article was misleading… It was never intended to be a bike path," he shared in an interview this morning. Bezner, who made it clear this was not Clackamas County's project, said the project had been planned without bike access in mind since 2006.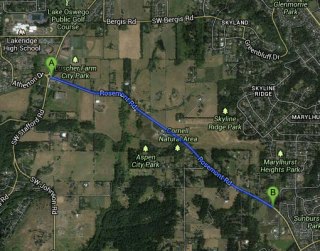 The reason for this is because when the Columbia Land Trust obtained the initial permits for the project in 2005, they could only afford a six-foot wide path. That's too narrow for a shared-use path, says Bezner. "They did the project with that mutual understanding all these years." Bezner also said that permits for the project include only "pedestrian easements" that specifically prohibit bicycle riding. "The people that live along the route didn't want to give them easements for bicycles."
The fact that the Columbia Land Trust ended up building this last section of the path eight feet wide (not the six that was originally planned), doesn't sway Bezner's decision. He said this morning that in some cases they could make eight feet work for a shared bicycling and walking path (they prefer 10 feet); but in this case, the topography of the area makes it unsafe for shared use.
"The people that live along the route didn't want to give them easements for bicycles."
— Mike Bezner, Clackamas County Transportation Engineering Manager
The section of the path in question is relatively steep and the main concern from the County's perspective is safety. Bezner claims, "There's already been a lot of reported bike and pedestrian near misses — including the reporter who wrote that article in The Oregonian. She almost got hit by a bike."
Jill Davis, communications director for the Columbia Land Trust (CLT), agrees with the County's safety concerns. She also concurred with Bezner's history of the project, and said The Oregonian story was inaccurate. The Oregonian reported that the CLT "from the beginning called it an amenity for both cyclists and pedestrians. It even widened the trail from the planned 6 feet to 8 feet to accommodate bikes."
"Columbia Land Trust never promised that it would be open to bikes," Davis shared with us today, "This sentence in the Oregonian is factually incorrect… Allowing bikes was never a guarantee. We cannot find any outreach materials that ever promised the Rosemont Trail would be a bike trail."
As to why her group widened the trail from six to eight feet, Davis says that was done in order to "possibly" accomodate bike access "at some point in the future."
Both Bezner and Davis say they'd ideally like to see bicycling on the path, but they each had a different outlook on whether or not that's likely to ever happen. Davis says her group is already collecting data and doing analysis to present to the County in hopes it will lead to solutions to the "safety issues inherent on the Trail." "Columbia Land Trust's goal is for the Rosemont Trail to be usable by both bikers and pedestrians, and we will continue to work toward that end."
But Bezner, although he says bike access on the path would be ideal, sounded less hopeful. "We are trying and actively working on this, but I don't see an immediate solution," he said. "I can't make it wider and the easements don't accomodate bikes. I just don't think we're going to have a solution that is going to get bikes on it any time soon."
Clackamas County's long term plans are to install bike lanes on Rosemont Road; but Bezner says improving bicycle access on Rosemont — whether it happens on the road or on the new trail — isn't a high priority for the County right now. "It's one of about 400 projects on the list," he said, referring to the current update of their Transportation System Plan. "There is a lot of competition on that list. A lot of good projects."
—
While there are surely a lot of other needs and projects on the County's list, I doubt any of them can boast of $1 million in private investment that has led to a major new piece of infrastructure already on the ground. Not to mention one that prohibits bicycle use and perpetuates a lack of a safe bicycling connection where there could easily be one. Whether or not these facts move future bike access improvements in the Rosemont corridor up the County's official priority list remains to be seen.