Levi's makes Portland first stop on its 'Go To Work' bike shop tour
Levi's makes Portland first stop on its 'Go To Work' bike shop tour
Levi's will have experts on hand
for free fixes of bikes and clothing.
(Photo: Urban Outfitters)
Editors at The New York Times aren't the only ones who know Portland is an epicenter of fashion and bicycling. One of the most respected names in the history of fashion, Levi's, has announced their six-city 2013 Bike Shop Tour and Portland is the first stop on their list. Themed, "Go to Work" and aimed at promoting their Commuter apparel line, a crew from Levi's will roll into Portland with their mobile bike shop and sewing studio on August 6th.
Other stops on the tour include San Francisco, Denver, Minneapolis, Austin and Brooklyn.
Similar to a stop they made here last summer (they set up outside Pacific Northwest College of Art on NW 13th and Johnson), the Levi's Bike Shop will offer free bike tune-ups and washing, basic repairs, and tailoring. This year, the shop will be located at Wonder Ballroom (128 NE Russell Street) and will be open from 5:00 to 9:00 pm.
After tended to your bike commuting vehicle and fashion needs, the Levi's crew will offer a bike valet and then seduce you to linger a bit longer with a live music concert, a goldsprints competition, and drinks. Bands set to perform include Pure Bathing Culture, Onuinu, and Magic Mouth. The music and other 21+ fun begins at 8:00 pm.
Here's the Portland event flyer…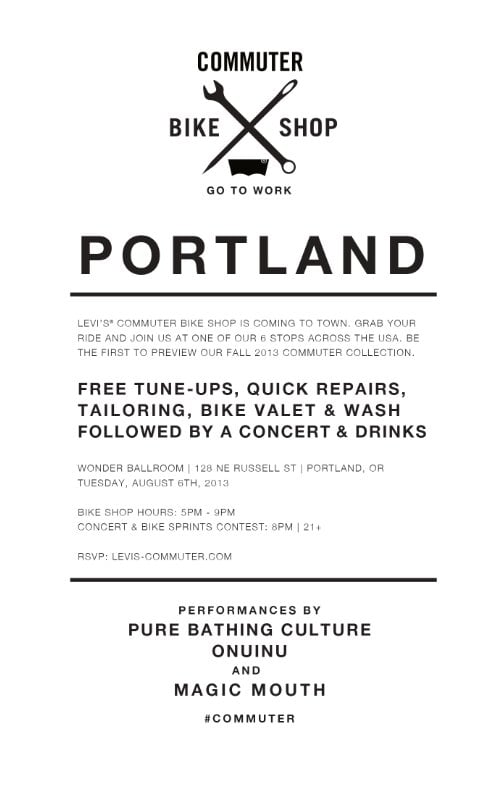 And to get a better idea of what to expect, check out the promo video…

Bonus event! If you just can't get enough of the Levi's Commuter stuff (as an owner of two pairs of the pants, I can vouch for their quality and utility), swing by West End Bikes (111 SW Stark) on Monday, August 5th to welcome the Levi's tour to Portland. There will be drinks and snacks and probably some swag and very nicely dressed bike riders.