Man on a bike struck while trying to cross I-205 – UPDATED
Man on a bike struck while trying to cross I-205 – UPDATED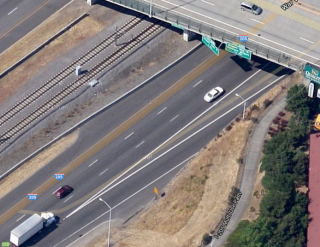 A man who was trying to cross Interstate 205 under the NE Killingsworth Street overpass was struck by someone driving northbound on the freeway. According to the PPB, the man was on his bike prior to the collision. He has "traumatic injuries" and his current condition is unknown at this time.
It's not yet apparent yet why the man would have been attempting to cross the freeway. It's worth noting that the I-205 multi-use path comes within just a few feet of the freeways lanes as it goes under the Killingsworth overpass.

We'll post updates as more information becomes known and the PPB get further along in their investigation.
UPDATE, 4:31 pm: Here's the latest from the PPB:
The bicyclist struck on I-205 today has been identified as a 40-year-old man. His name is being withheld at this time until family can be located. He remains in a Portland hospital in critical condition but is expected to survive his injuries.

A preliminary investigation indicates that the man was riding his bike on the right shoulder of I-205 northbound then began to cross over the freeway towards the center median. A northbound driver traveling the speed limit struck him as he reached the left lane.

The driver stopped and has cooperated with the investigation.

There is unconfirmed information that the bicyclist may have a had a dog on a leash at the time of the crash. No dog was located and it is not known what type of dog it may be.

Anyone seeing a loose dog with a leash should call Multnomah County Animal Control.

No citations have been issued and the case remains an open investigation.