NW Trail Alliance is raffling off an $8,500 mountain bike
NW Trail Alliance is raffling off an $8,500 mountain bike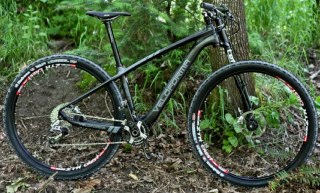 This could be yours for $20.
(Photos: NW Trail Alliance)
One very special mountain bike could be worth $15,000 to a local non-profit.
The Northwest Trail Alliance (NWTA) is raffling off a custom bike in order to raise money for their trail work projects and ongoing advocacy to improve off-road bicycling access and conditions throughout the region. The bike (size 17″) is a carbon fiber, Veloforma Rival Two9R model with a custom paint job and it comes with a hand-picked component package that includes: a Cannondale "Lefty" carbon XLR 100mm fork; Thompson seatpost and stem; Stan's No Tubes ZTR Crest wheelset; and a SRAM XO build kit. It's got an estimated retail value of $8,500 and it was donated by Portland-based Showers Pass (whose owner, Kyle Ranson, sits on the board of NWTA).
Only 750 tickets will be sold and each one is $20. Our friends at NWTA say the drawing will be held on October 26th at the Halloween Cross Crusade event in Bend. 100% of the proceeds from ticket sales will be given to NWTA. You can purchase tickets online via the Showers Pass website. This is a great way to support the work of these stalwart and professional off-road cycling advocates. They're doing great things!
Here are a few more photos of the rig: