Changes on SE 14th near Sellwood school improve bike access
Changes on SE 14th near Sellwood school improve bike access
Bicycling is allowed in both directions, while driving is only allowed southbound.
(Photo: Matthew Arnold)

The Portland Bureau of Transportation has made some significant changes to SE 14th Avenue in Sellwood just in time for the new school year.
For three blocks on SE 14th between SE Bybee and Duke, PBOT has made the street into a one-way for driving (southbound) and two-way for bicycling with a new bike lane in the northbound direction. Prior to the change, 14th was a relatively narrow street that provided key north-south access for Llewellyn Elementary School. According to Gabriel Graff, the operations and safety manager at PBOT's Active Transportation Division, the school is over capacity and doing something to improve access on the crowded street has been on the city's to-do list for many years. "The school is over capacity and the neighborhood has a bumper-crop of kids," Graff shared with us yesterday, "And the principal at Llewellyn has been requesting this for almost a decade now."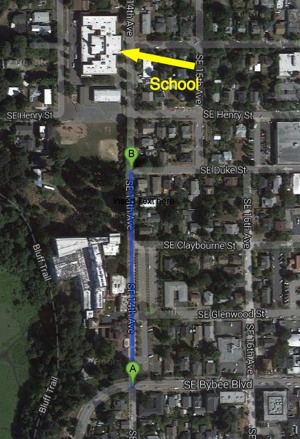 Blue line shows where new bike lane has been installed.
One reason Llewellyn was eager for changes to SE 14th is because the amount of kids and parents biking and walking to the school has skyrocketed in recent years. According to PBOT, a 2009 survey of parents found that bicycling made up 14.3% of all trips at the school. In 2012, that number had shot up to 24.8%. Llewellyn's biking rise was cemented this year when they earned first place in the Walk + Bike Challenge Month competition.
Graff says PBOT is constantly looking for opportunities to make these type of changes near schools. "If we're able to get the property owners bought in on the project, we've found that they're inexpensive and can really work. It serves pedestrians too. Traffic will now be slower and more predictable."
It's great to see PBOT taking this creative approach to street design. The "Except Bicycles" signage like they've used here — and streets where driving is only allowed in one direction, but bicycling can be done both ways — is a very common practice throughout the Netherlands and Copenhagen.