Bike shop news roundup
Bike shop news roundup
I've got several bits of local bike shop news in my brain and my inbox, so I figured it's a perfect time for another roundup…
Congressman Earl Blumenauer turns attention to bike shops today
Portland's representative on Capitol Hill is in Portland today focusing on bike shops' impact on the local economy. After a tour sampling a few shops, he plans to convene a 'Bike Shop Roundtable' at VeloCult. According to a Blumenauer aide, about 12-15 local bike shop owners will be there. "It's meant to be a check-in with different bike shops and businesses around the city, a discussion of Portland's budding cycling economy, and an opportunity for the businesses themselves to discuss issues, federal or otherwise, they might be facing," said the aide. I plan to be there and will bring back a full story, so stay tuned!
New shop coming to north Portland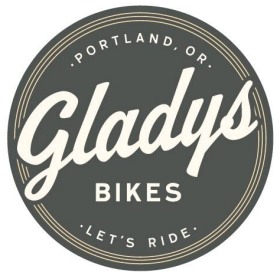 Gladys Bikes is the name of a new shop coming to North Portland this fall. Owner Leah Benson is keeping mum on many details until she's closer to opening in October, but from the photos she's been posting to Facebook, it looks like Gladys Bikes will be a very solid addition to the neighborhood.
The eBike Store set to open at new location
The eBike Store, formerly located on N Alberta and Vancouver, is putting the finishing touches on a new location in the Piedmont neighborhood. Owner Wake Gregg has been working for months on renovations to a former chop-shop on the northwest corner of Albina and Rosa Parks Way (across the street from Peninsula Park). Gregg lives just a few blocks from the new store. I spoke with him this morning and — despite a struggle with the City of Portland over various permitting issues — he is excited to be just one week away from officially opening to the public. The new eBike Store has already transformed the corner, and, as a nearby resident myself, I can say the neighborhood is welcoming this shop with wide open arms! Good luck Wake and we can't wait for opening day.
Portland bike shops on About.com
Local writer (and top-notch cyclocross racer) Josh Liberles posted a solid run-down of what he refers to as "Portland's Top 11 Bike Shops." You might be surprised at what shops he included, and which ones he didn't. It was interesting to me that two of Portland's largest shops — Bike Gallery and Bike n' Hike — didn't make the list, while several smaller shops did. Perhaps the trend of bike shops becoming welcoming community spaces is starting to change public perception of what makes a good shop?
That thought brings me to the next item on our list…
Wall Street Journal notices cafe, community trend
Today's Wall Street Journal featured a story on the growing national trend of bike shops becoming community gathering places. We've seen this phenomenon occur locally for years now, especially in the success of VeloCult, so it's great to see that it's catching on around the country. The WSJ reported that a National Bicycle Dealers Association survey of 4,000 establishments found that 12% have coffee bars, 11% offer spinning classes and almost 5% serve beer.
Speaking of beer…
Western Bike Works now offers beer, outdoor seating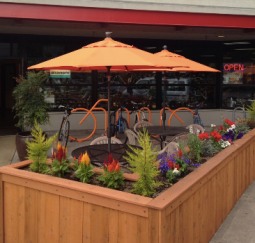 Western Bike Works at NE 17th and Lovejoy has recently started offering a full beer selection at their in-store Corsa Cafe. The shop has also converted a few parking spaces in front of their store into outdoor customer seating, complete with flowerbeds and a sun umbrella. Inside the shop you'll find couches, tables, and a cafe serving baked goods, beer, and a full coffee selection.
Clever Cycles' largest sale ever starts today
Clever Cycles is having a back to school sale that starts today and goes through September 15th. It's their largest sale ever and they're offering some great deals on everything in the store, including complete bikes from brands like Handsome, Surly, WorkCycles, and more. Clever knows how to put on a sale, so my advice is to get their early if you want to get the good stuff.
— Read more local bike shop coverage in our archives.