Washington County seeks input on 'Neighborhood bikeway' routes
Washington County seeks input on 'Neighborhood bikeway' routes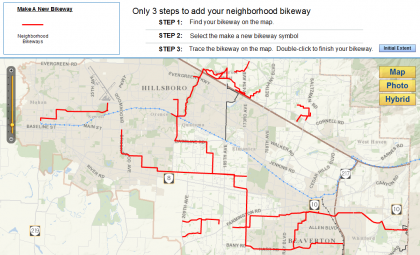 Washington County's map in progress.
Bicycle boulevards, neighborhood greenways — whatever you call them, the low-traffic streets marked by sharrows and low-stress crossings are one of the best things about Portland's bike network.
Now, Washington County is preparing a map of what it's calling "neighborhood bikeways," and looking for the public's help. A new interactive map invites people to submit their preferred bike routes across the metro area's west side to help inform planners about the best possible paths.
This is a challenging task in Portland's suburbs. Most of our region's surburban land was developed with the assumption that gridded streets are bad, because they allow people to improvise routes rather than navigating via big arterials. It's only recently that more cities have realized that cul-de-sacs increase auto dependence by making bike and foot transportation less convenient.
Here's how Washington County describes its "neighborhood bikeway goals":
Shift biking and walking from being recreational only to a viable transportation option to get to most destinations.
Move us beyond designing bicycle facilities for the 'spandex crowd' to making bicycling safe and convenient for all ages and abilities.
Encourage biking and walking as a means of creating vibrant and healthy communities, regardless of age, gender, ability, ethnicity, or economic background.
Getting "at least 10 miles" of neighborhood greenways on the ground in Washington County by 2018 is one of the Bicycle Transportation Alliance's top 16 priorities.
The county's planning project is being paid for by a combination of county and federal funds.
Here in Portland, where the grid our grandparents built gives us a lot of potential routes to work with, planners have decided that great neighborhood greenways include speed humps every 350 feet, posted speed limits of 20 mph, daily traffic counts of 1,000 autos or fewer (sometimes enforced by traffic diverters), regular signage (including sharrows in the center of the roadway) and stop signs facing away from the bikeway unless necessary.
Washington County will be working to develop its own guidelines and planning process this fall, and it may conclude that suburbs need a different approach. You can follow their progress by subscribing to the bike and pedestrian information section of their website.