Metro seeks applicants for influential transportation committee
Metro seeks applicants for influential transportation committee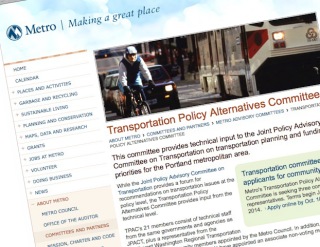 The Portland area's regional government is recruiting three volunteers to join one of the most powerful transportation committees in town.
Metro's Transportation Policy Alternatives Committee has three openings starting in January. The committee, which is divided between transportation professionals and community members, advises the elected Metro council and other bodies on many transportation investment priorities and policies.
This year, Metro said in a news release, the agency "especially seeks applicants who can bring expertise in the following areas as they relate to transportation planning":
— Economic development, freight movement and trade
— The needs of underrepresented residents such as people of color, people with low income, people with disabilities, seniors and youth
— Health and air quality
It's vital that the people who serve on this committee understand how bicycling can play a powerful role in all of those areas.
TPAC meets from 9:30 a.m. to noon on the last Friday of each month, though additional meetings (also on weekdays during regular business hours) are sometimes called.
The Metro Council expects to make the appointments in November based on nominations from Metro president Tom Hughes and recommendations from the council and staff.
Candidates can submit an application online, or download the form and mail it completed to Metro Council Office, Attn. Kelsey Newell, 600 NE Grand Ave., Portland, OR 97232. Applications are due at Metro by 5 p.m. on Oct. 18, 2013.
For more information on the application process, call Newell at 503-797-1916. Hearing impaired may call TDD 503-797-1804.