First-ever 'Trans Am Bike Race' will shove off from Oregon
First-ever 'Trans Am Bike Race' will shove off from Oregon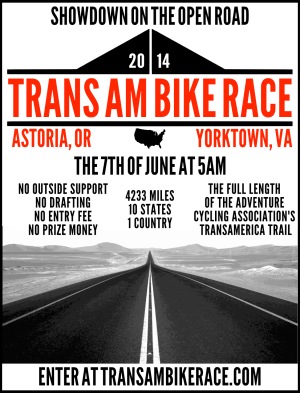 Six months from now a bicycle race of truly epic proportions will begin on the Oregon Coast. On June 7th riders will begin the inaugural Trans Am Bike Race from Astoria to Yorktown, Virginia. That's a whopping 4,233 miles of racing that will be missing one important thing: support. That's right, competitors in the Trans Am Bike Race will not be allowed any outside assistance.
Each racer (80 people have signed up so far) will be tracked via satellite and their progress can be followed online by "virtual spectators."
Nathan Jones, a Portland-based volunteer organizing the Oregon portion of the event, said the Trans Am is part of a larger trend in self-supported "bikepacking" — a lighter (and often faster) version of traditional touring where you carry all the gear you need. "It seems 2014 is going to be a pretty big year for self supported bikepacking in Oregon. The Trans Am along with the Oregon Outback are going to bring a lot of exposure to the previously smaller world of bikepacking."
Here's more from a Trans Am statement:
Unsupported and underground adventure bike races have been steadily growing in popularity over the last decade in the US and around the world and thanks to satellite tracking technologies and the web have developed a widespread and loyal following. Typically the events have been low key and wilderness based with small numbers of autonomous adventurers getting together informally and pitting themselves against each other, nature and the elements with minimal equipment. The most prominent of these events is the Tour Divide which has no formal administration but which has grown to attract a field of over 130 participants. Like the Trans Am, there is no entry fee, and no prizes. Racers assume sole responsibility for their own trip, logistics and personal safety.
For the Trans Am, competitors will follow the same route first mapped by the Adventure Cycling Association back in 1976.
If this is your cup of tea, there's plenty of room to sign up.