New parks will improve bicycling in east Portland
New parks will improve bicycling in east Portland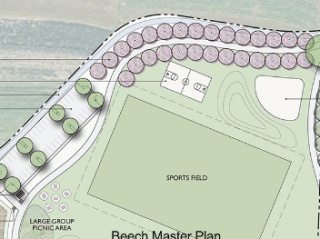 New paths and maybe even a
pump track are coming to Beech Park.
(Graphic: Portland Parks)
The two new parks announced by the City of Portland last week will come with new bicycling opportunities for Portlanders — especially the estimated 1765 households that live near them
The proposed Beech Park (NE 126th and Beech) and Gateway Park & Plaza (NE 104th and Wasco) were pitched to the community by Parks Commissioner Amanda Fritz as a way to enhance underserved areas. "In east Portland, two out of every five households do not have easy access to a City park," read a statement from Fritz. "That is in stark contrast to the rest of Portland where four out of every five households live within a half-mile of a park or natural area."
While residents of east Portland have fewer parks, they also have fewer safe places to ride bicycles away from road traffic. The great news is that both of these parks will provide places where people young and old can ride in a pleasant environment.

The 16-acre Beech Park in particular will be a bicycling destination for area residents. Take a look at how paths envisioned in the park will connect between NE Shaver and Fremont: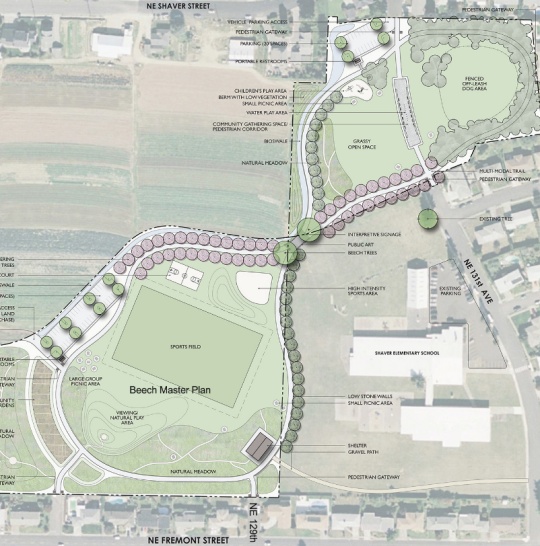 Portland Parks & Recreation took its design cues for this park from the 2008 Beech Park Master Plan. Bicycling — as both a way to access the park and as an activity to do once in the park — figures prominently in that plan. Calls for improved bicycling connections between the park and the Argay Neighborhood are recommended in the plan and mentioned under the headings of "community goals", "sustainability framework" and as a challenge that, "must be addressed".
"If the aim is to build a community park that all residents can enjoy," reads the 2008 master plan, "then residents of all ages and abilities must feel comfortable accessing it, especially with small children in tow". This will be especially important at Beech Park because it's adjacent to an elementary school.
There's also a possibility that Beech Park could end up with a bicycle pump track. The first such pump track opened at Ventura Park in the summer of 2012 as a pilot project between the City and the Northwest Trail Alliance (the non-profit paid for and maintains the facility). Parks spokesman Mark Ross says there are no current plans to work with NWTA again, but that final say on how the park is designed will be up to the community. "The Beech Park master plan calls for a high-intensity use area for a dirt bike area or skate area," Ross shared with BikePortland last week, "So, yes, that [a pump track] is a possibility."
The new Gateway Park & Plaza will be much smaller (just four acres) than Beech, but it too will come with nice new paths:
Ross says there's already been a decision to make a skate park at Gateway, so a bicycle-specific area isn't in the plans.
The two parks are estimated to cost about $12 million and are being paid for by System Development Charges
Learn more about what's in store for both parks on the City's website.