City releases dates, locations for 2014 Sunday Parkways events
City releases dates, locations for 2014 Sunday Parkways events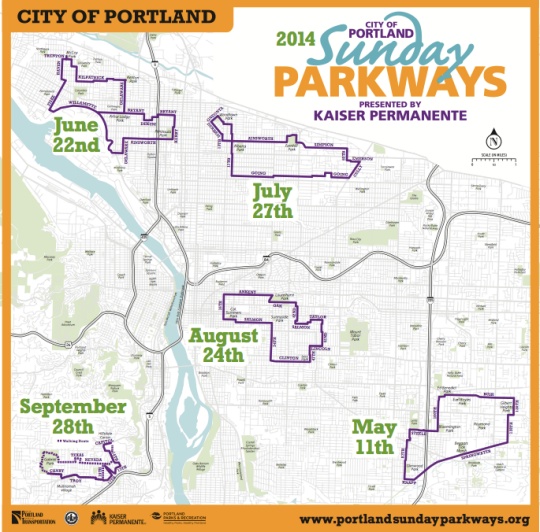 Mark your calendars! The Portland Bureau of Transportation has just announced the dates and locations for the five Sunday Parkways events for this year.
Here are the details:
East Portland Sunday Parkways
May 11, 2014 ~ 11am-4pm (7 miles)
Celebrate Mother's Day with a tour of East Portland. Whether walking, biking, rolling or dancing along the route, take time to stop by Glenwood, Bloomington, and Ed Benedict Parks for a spot of food, vendors, music and more.

North Portland Sunday Parkways
June 22, 2014 ~ 11am-4pm (9.5 miles)
Cruise along the scenic Willamette Boulevard, and then glide towards Peninsula, Arbor Lodge, Kenton, Columbia Annex and McCoy Parks to enjoy an array of activities, food, music, vendors and fun.

Northeast Portland Sunday Parkways
July 27, 2014 ~ 11am-4pm (8 miles)
Explore the Northeast Neighborhood Greenways while you make your way around the Northeast Portland route. Don't forget to stop by Woodlawn, Alberta and Fernhill Parks where a collection of fun activities, festive music, and delicious food awaits you.
Southeast Portland Sunday Parkways
August 24, 2014 ~ 11am-4pm (7 miles)
Spend a warm summer day walking and rolling around the Southeast Sunday Parkways. While you're at it, take a few moments to explore Laurelhurst, Colonel Summers and Ivon Parks to grab a bite to eat, listen to tunes, and join some activities.

Southwest Portland Sunday Parkways
September 28, 2014 ~ 11am-4pm (6 miles)
End the Sunday Parkways season by taking advantage of the route, including a walk-only trail. Whether rolling down Troy Street or exploring the SW Trails with its rolling hills and scenic views, don't forget to stop by Gabriel Park, Multnomah Village and Hillsdale Shopping Center for food, music, activities and more.
Last year, PBOT says 85,480 people participated in the four Sunday Parkways events (one was canceled). This year they're hoping to break the 100,000 mark.
— Learn more about the program on the City's website and browse our past coverage and photos in the archives.
(Photo by J. Maus/BikePortland)