The Monday Roundup: The case against riding in bike lanes & more
The Monday Roundup: The case against riding in bike lanes & more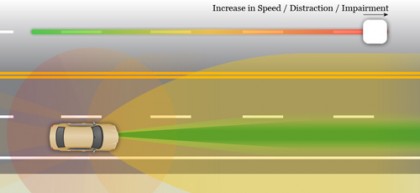 Here's the bike news from around the world that caught our eyes this week:
Take the lane: "Being 'in the way' works," writes a St. Louis biking instructor in her very thorough argument that riding in a bike lane is more dangerous than riding in the flow of traffic. "Even the multi-tasking French fry eaters change lanes to pass."
Safety second: Two days after announcing "Vision Zero" traffic safety plans for New York City, Mayor Bill de Blasio's caravan was caught on tape running two stop signs and driving 60 mph in a 45 zone. NYPD, which operates the caravan, said it was using "special driving techniques for protective reasons."
Itemizing safety goals: New York has a new website explaining Vision Zero's concept that there is no more important value in street design than preventing traffic deaths. It also lays out the city's concrete action plan.
Endorsing safety goals: Meanwhile in Portland, Transportation Commission Steve Novick explicitly endorsed Vision Zero, the idea, though Mayor Charlie Hales has not. (However, Bicycle Transportation Alliance Executive Director Rob Sadowsky wrote in an email last week that Hales endorsed the idea during his campaign.)
Pre-spring training: Florida Marlin and National League rookie of the year Jose Fernandez "sounds every bit the kid" as he talks about his off-season "love affair" with his 15-pound bicycle.
Better plowing: Responding to the death of a man killed while walking in the street to avoid snow that had been plowed into the sidewalk, a Washington DC writer has a nine-point agenda for snow clearance policies that allow active transportation.
Week-long open street: This year, Bogota expanded one of its pioneering car-free streets events into an entire car-free week on several routes through its usually-congested central city.
Bike lane panic: "The bicycle lobby is out of control" for supporting a "mostly untried complete-streets policy" on King Street in Alexandria, Va. that would remove 27 of 37 parking spots for a combination of shared and bicycle lanes, a resident writes. ("That's where she's wrong," replied @BicycleLobby on Twitter. "We're very much *in* control.")
Risky exercise: A new study in London found that higher collision rates for young people and females counteract the health benefits of bike sharing, but don't offset huge health benefits to older people and men.
Injury data wanted: A UK charity is soliciting donors to help create a database of biking injuries and fatalities that it says would help improve safety.
Bike-friendly schools: Portland State University's Bike Hub, VikeBikes rental program and for-credit class in bike riding got it recognized as one of nine great colleges for biking.
Female mechanic scholarships: Ashland's location of the United Bicycle Institute is offering two scholarships of up to $1,950 for female mechanics looking to attend its training school.
Privilege and biking: Chicago-based writer Echo has some thoughts about "microaggressions" within the "bike community": "the cogs that keep the oppression machine running."
Seattle targets: Seattle's new mayor just set a goal of halving the share of residents who drive to work to 25 percent, though he doesn't seem to have set a timeline, and of launching the "only" bike share system in North America that'll launch in 2014. Hmm.
Alta rejected: Portland's Alta Bicycle Share offered to buy its nearly-bankrupt Montreal supplier, Bixi, last December for more than $32 million, but was turned down because it failed to show Bixi that it had the capacity to pay.
Health payoff: Cost-benefit ratios in 16 studies show that investing in biking and walking infrastructure delivers "a 500 per cent return on my invested tax dollars" thanks to reduced medical bills, writes Toronto doctor Vincent Lam.
If you come across a noteworthy bicycle story, send it in via email, Tweet @bikeportland, or whatever else and we'll consider adding it to next Monday's roundup.
CORRECTION, 1:55pm: The item about the PSU Bike Hub original stated that the school offered a "four-credit" class. We were wrong (and Bicycling Magazine's article still is). It's a "for-credit" class. We regret any confusion.