Weekend Event Guide: Sales, Bike Expo, Jump Jam, MTB racing and more
Weekend Event Guide: Sales, Bike Expo, Jump Jam, MTB racing and more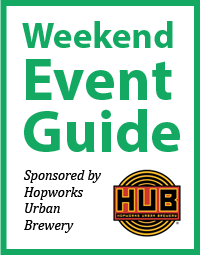 Welcome to our weekly guide to all things bike. Once again, with the support of Hopworks Urban Brewery, we now present the best bike rides and events in and around Portland this weekend.
Don't let the winter weather get you down. Check out the ride and event details below for something that looks interesting then get on your bike and get out there.
Friday, February 28th
River City Bicycles 19th Anniversary Sale – Today through March 9th at main store and RCB Outlet
Come gear up at River City's only storewide sale of the year. Get 10% off everything at their main store (706 SE Martin Luther King Jr Blvd) and the RCB Outlet (534 SE Belmont St) with up to 50% some items. Including bikes! More info here.
West End Bikes Anniversary Sale – Starts at 10:00 am at West End Bikes (1111 SW Stark)
Big sale at West End starts Friday night and runs through March 9th. They'll have 10-50% off everything in the store, and if you've ever been there you'll know they've got some of the nicest gear in town. The sale will feature bike brands like Colnago, Specialized, Calfee, and others and clothing brands like Assos, Mission Workshop, Levi's, DZR, and more. More info here.
Saturday, March 1st
Cascade's Seattle Bike Expo – Saturday and Sunday at Smith Cove Cruise Terminal (2001 W Garfield St., Seattle, WA)
This is the big one. 175 vendors and in its 26th year, this event draws buyers and sellers from throughout the northwest. There are tons of new products to ogle as well as live performances, clinics, a kid's zone, and more. Tickets are $10 a day or $12 for the weekend (kids under 15 are free!). More info here.
Fat Tire Farm Annual Sale – (2714 NW Thurman)
Another big sale coming your way. It's the annual sale from mountain bike specialty shop Fat Tire Farm. They'll have 10-50% everything in the store, including what manager Barry O'Connor says are "incredibly low prices" on their fleet of demo bikes. Sales starts Saturday and runs through March 9th. More info here.
Performance Bicycle Great Ride Series – 8:00 am at all four Portland locations (Shop locations here)

All four Portland-area Performance Bicycle retail stores are hosting entry-level group rides as part of their "Great Ride Series". The rides are about one hour long. If there's a Performance store in your neighborhood, show up and give group riding a try.
Zed's Bike Move – 11:00 am
Curious about bike moves? There's one happening in southeast Portland on Saturday. Bring your trailer, racks, buckets, baskets and other cargo-hauling devices and get ready to pack and pedal. Learn more about local bike moves on this newly created Facebook page. More info on Zed's Bike Move is here.
Trail Building at Stub Steward State Park – 9:00 am at Buxton Trailhead (24600 NW Bacona Rd, Buxton)
Join the Northwest Trail Alliance and be a part of exciting progress on the mountain bike trail network at Stub Stewart State Park. After meeting at the Banks-Vernonia Trailhead, volunteers will ride two miles up to the work sites. Bring some work gloves and sturdy clothes. You'll be provided with tools, instructions on how to use them, safety tips and of course, donuts. More info here.
Echo Red 2 Red XC MTB Race – All day in Echo, Oregon (corner of Main and DuPont)
This classic event, now in its sixth year, marks the start of the mountain bike racing season in Oregon. It's held in the small eastern Oregon town of Echo (about 188 miles east of Portland). Last year nearly 600 people showed up to race this fun course (which features 70% singletrack) and enjoy the down-home Echo charm. This is an OBRA-sanctioned event, so if you want to participate make sure you've got a current license. You can register and find more info here.
Sunday, March 2nd
Dirty Circles Road Race – All day in Woodland, WA
This is the first of a three race series intended, in the words of its organizers, "as a relaxed early season race designed to give everyone a way to spark the fires for a successful road season." More info here (PDF).
Grom MTB Jump Jam – 6:00-9:00 pm at The Lumberyard
A special jump contest at Portland's finest indoor riding park. It's for "groms" ages 12 and under who are looking to show off their skills and want a chance to win cash, sweet prizes, and major bragging rights. $20 entry fee (or $10 for existing Lumberyard pass holders). More info here (FB).
Did we miss anything? Please drop us a line and let us know. Or feel free to promote your event in the comments below. And as always, thanks for reading and riding!