Weekend Event Guide: Tweed, gravel, cherry blossoms and more
Weekend Event Guide: Tweed, gravel, cherry blossoms and more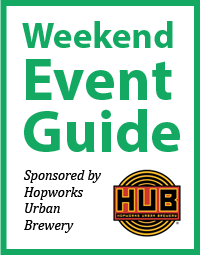 Welcome to your menu of weekend rides and events (lovingly brought to you by Hopworks Urban Brewery).
Given all the sun we've had this week, I know a lot of people already have some big adventures planned. For those of you still looking for some excellent options, we have a fine edition of our Weekend Event Guide all dolled up just for you. Whether you're looking for a fun and social themed ride or a big adventure like your first Gran Fondo, check out the menu below and order up something tasty for your sunny weekend.
Saturday, April 12th
Wenzel Coaching Mountain Bike Clinic – 10:00 am at Stub Stewart State Park
If you've been wanting to become a better mountain biker, expert coaches Elaine Bothe, Martin Baker and Rhonda Morin would love to help you make it happen. Whether your goals are racing or just having more fun on the trails, this clinic might be worth checking out. All skill levels can be accommodated and it's $35 to register. Once you've learned your new skills, test them out on the awesome trail network at Stub Stewart. More info here.
Burger and a Beer – 10:00 am at Sauvie Island (NW Sauvie Island Rd and NW Gillihan Loop Rd)
This Portland Wheelmen Touring Club ride meets on beautiful Sauvie Island then heads uphill to Skyline Blvd then rolls into Helvetia Tavern for a break. It's about 35 miles with 3,500 feet elevation gain. More info here.
City of Portland Safe Routes to School Spring Kickoff – 10:00 am to 2:00 pm at Earl Boyles Elementary (10822 SE Bush St)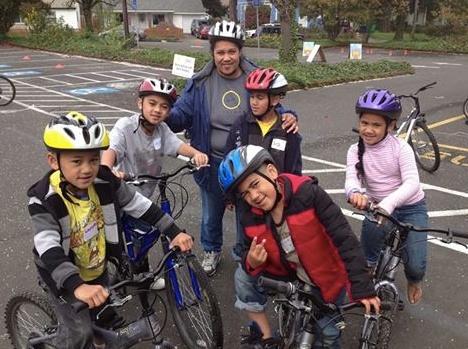 (Photo: Portland Bureau of Transportation)
If you've been looking for a great family biking activity, look no further! Join the fine folks at PBOT for all types of fun activities to support the upcoming season of walking and riding to school. They'll have games, crafts, $6 helmets, free basic bike repair, free goodies, a prize raffle, and more. First 100 families get a free lunch and a community bike ride begins at 1:00 pm. More info here.
Western Bike Works Shop Ride – 10:00 am at the shop (NW 17th and Lovejoy)
Ms. Maria Schur is back again to lead another shop ride. This time she's got a 30-mile, hilly route planned. As always, the ride will be at a social pace.
Ambling About NE with the Easy Riders – 10:30 am at Crema Bakery & Cafe (2728 SE Ankeny)
Join Brad Reber and the laid-back Easy Riders group for a jaunt out to the Roseway neighborhood. From there, they'll "saunter" over to Woodlawn then roll back via the picturesque Alameda Ridge. The 14-mile ride will end at Migration Brewing. More info here.
Meet the Team Ride with Joe Bike – 12:00 pm at Joe Bike (2039 SE Cesar Chavez Blvd)
Joe Bike has a small but enthusiastic racing and riding team that's looking for a few new members. They focus on cyclocross and there's a team ride every Saturday. Their vibe is pretty informal, but they like get after it from time to time and they have tons of fun on trails and roads through the region and the state. More info here.
Sunday, April 13th
Cherry of a Ride – All day (Rides leave from St. Mary's Academy at 1112 Cherry Heights Road in The Dalles)
This is the 10th annual Cherry of a Ride, a fully supported and fully scenic event that will give you a wonderful taste of riding in The Dalles. You can choose from 30, 48, 60, 80 or 100 mile routes. You'll meander through blossoming cherry orchards and wheat fields of rural Wasco County and the longer routes will give you some views of the Columbia River Gorge that will blow your mind. As you might have read recently here on the Front Page, the riding in this area is splendid and the town itself has really embraced cycling. Registration is $45 to $55. More info here.
Gran Fondo Goldendale – 9:00 am at Goldendale High School in Goldendale, Washington
90 miles (25 of it on gravel roads) and 6,300 feet of climbing. This ride isn't for the faint of heart, but it sure looks amazing. This area of the Gorge — just east of The Dalles — is just waiting to be discovered. The roads are empty and the views are magnificent. I know a few groups of Portlanders that are headed out to do this one. I have a hunch it'll be well worth the trip. More info here.
Verboort Ride w/o the Sausage – 9:30 am at Shute Park (SE 8th and Maple in Hillsboro)
This would be a great choice if you've been wanting to learn more about the quiet country roads of Washington County. It will be led by Benn Schonman, who's not only the best sign guy in town but he's also behind the Pioneer Century. Speaking of which, this 44-mile ride is a training session for the century in June. More info here.
The Tweed Ride – 1:00 pm at Peninsula Park (On N Albina between Ainsworth and Rosa Parks)
This is the big one folks. Dress up in your best old-timey finery and kick things off with a Tea Social under the roof of the gazebo overlooking the Peninsula Park Rose Garden (bring treats and tea to share). The ride rolls out at 2:00 pm and will head about 10 miles to Old Portland Hardware where there will be an after-party with live music from This Twilight Orchestra and other splendid diversions. More info here.
Did we miss anything? Please drop us a line and let us know. Or feel free to promote your event in the comments below. And as always, thanks for reading and riding.