Bike Clark County looking for new location
Bike Clark County looking for new location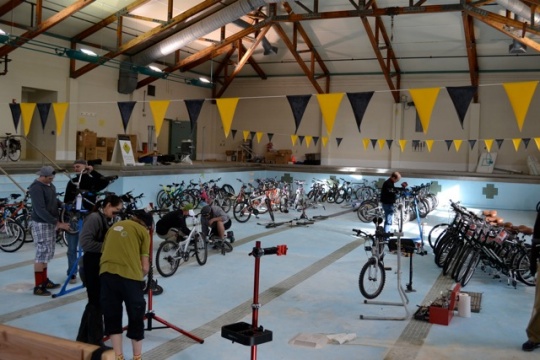 The swimming pool that has been Bike Clark County's home for the past two years.
(Photo courtesy Eric Giacchino)
Bike Clark County needs a new home. The non-profit bike advocacy organization has been operating from what it's president Eric Giacchino calls a "weird but fun" space in downtown Vancouver — a drained swimming pool — for the past two years. Now Eric tells us his landlord (a charitable foundation) is considering other plans for the space so he's looking to find a new location to keep his successful programs afloat and possibly even open up a retail storefront.

In an email sent to supporters and members last week, Giacchino said he's "saddened" to have to leave his current location, but he understands the circumstances and is grateful for the space while it lasted. And he's already moved onto the next step: looking for a new space and organizing a move of tools, equipment, workbenches and over 200 bikes which will have to find a home by mid June.
Here's more from Giacchino's announcement:
We are beginning the search to find a home suitable to set up shop. We're in need of approximately 3000 square feet of secure space with lights and preferably access to a bathroom, where we can store and tune up our training fleets and also refurbish the bicycles that the community donates to our bike giveaway program.

Bike Clark County has been laying the groundwork for the idea of opening a brick and mortar community bike shop on or near the 4th plain corridor – maybe this is the catalyst we need. Huge thanks to the Hough Foundation for their generous donation of the space…it was fun while it lasted.
Giacchino is looking for help and partnership. He's committed to opening a community bike shop that serves Clark County's low-income households; but he needs a long-term space where he can set up a retail operation with regular business hours and paid staff (similar to the Community Cycling Center on Alberta).
If you can help, contact him at info@bikeclarkcounty.org.
— For more on Bike Clark County see our profile from last November.