The Monday Roundup: Bike suit, Idaho Stop endorsement & more
The Monday Roundup: Bike suit, Idaho Stop endorsement & more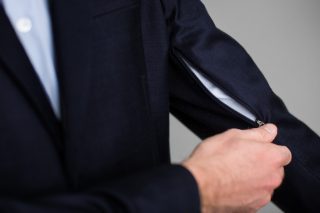 This week's roundup of the best bike links from around the world is brought to you by Abus Locks, which recommends investing 10 percent of your bike's value in its lock.
Bike suit: The new Parker Dusseau Commute Suit combines "the look of a well-tailored two-piece with the stretch of workout clothes."
Idaho stop praise: Laws that allow people to make careful, rolling stops instead of full stops when they're on bikes are just as safe or safer; make biking almost 25 percent more efficient; and have been making Idaho an unusually bike-friendly state since 1982, writes Vox.com in an endorsement of the concept.
Seattle's big week: Three weeks after the city approved a Portland-style bike plan, the mayor announced that Seattle's 500-bike Pronto! Emerald City system will launch this fall with Alaska Airlines as lead sponsor ("I made one call, and they said, let us know how to do it"), and also that a protected bike lane will be installed on 2nd Avenue downtown in time for the launch. Also, the beautiful protected bike lane on Broadway through Capitol Hill is "finally ready to (mostly) open."
"Street view for bikes": British site cycle.travel is aggregating photos of various off-road routes. Not available stateside yet.
Strava data: London and Glasgow have joined Oregon's department of transportation as early buyers of bike route data from a company that lets people track their rides. The controversial idea is to use the data in bike planning.
Suburban poverty: Rising demand for urban life is pricing poor people out of cities, but the suburbs are frighteningly bad at helping poor people survive.
Safer trucks: Europe's domestic vehicle manufacturers have successfully delayed proposed British rules that would require trucks to become less lethal to people on bikes.
Haptic safety: When an object (such as a car) is in your blind spot, this "connected carbon fiber bike" that's soared past its Kickstarter goal vibrates its handlebars to warn you.
No problem? Willamette Week looks at Portland's traffic death statistics over time (about 30 per year for 10 years) and suggests the city is calling it a "crisis" in order to gin up public support for a street fee. (The piece doesn't mention that when polled on the issue, 61 percent of Portlanders rated their priority of pedestrian safety improvements 6 or 7 on a scale of 7.)
Driving got boring: A novel explanation for the decline in driving: it got much more boring. "Before there was power steering and automatic transmission, maneuvering a car took effort. … Today what I feel is boredom, if not misery."
Biker-walker truce: The terms of good behavior are proposed by a New York Times obituary writer who says Citi Bike has made NYC biking "better than it has ever been."
Free research: Academic publisher Taylor & Francis has temporarily opened its archive of biking-related research papers.
DC's bikelash: My favorite of the above articles is one exploring how bike-friendliness helped topple the career of once-promising DC Mayor Adrian Fenty, an event that shaped the national bike movement's rising attention to "equity."
If you come across a noteworthy bicycle story, send it in via email, Tweet @bikeportland, or whatever else and we'll consider adding it to next Monday's roundup.