The Monday Roundup: The cost of zigzags, Swedish secrets and more
The Monday Roundup: The cost of zigzags, Swedish secrets and more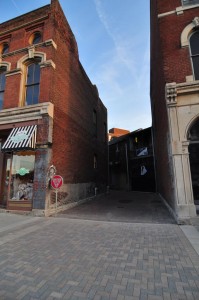 Here are the bike links from around the world that caught our eyes this week:
Commercial appeal: Much of the beautiful Indianapolis Cultural Trail has started to hum with new developments, but one section of the first-rate bike network hasn't: Massachusetts Avenue, where planners decided to zigzag the trail to preserve some on-street parking.
Assuming error: Instead of emphasizing education, the Swedish philosophy of street safety "assumes human imperfection at every turn" and asks engineers to mitigate it with design, writes the NYT in a report from the world capital of safe streets: Stockholm.
The upside of uncertainty: One of Sweden's tricks is to design low-visibility streets that have more minor crashes but fewer serious ones.
Baldwin as salmon: Semi-professional flipout artist Alec Baldwin called New York City "a mismanaged carnival of stupidity that is desperate for revenue and anxious to criminalize behavior once thought benign" after being cited for riding his bike the wrong way on Fifth Avenue.

Lock and leave: A $249 app-activated bike lock could improve peer-to-peer bike sharing.
Separation instinct: Environmental activists installed the first bike lane in Beirut by painting a blue stripe on a sidewalk, but the city's mayor says it should be in the street instead.
Trip differentiation: A progressive British think tank says the UK's taxation of cars should start distinguishing between necessary and unnecessary trips in order to be fairer to poor people.
Federal transpo: The Senate's version of a new transportation bill gets "a solid B+" (and a useful visualization of the relevant issues) from the League of American Bicyclists.
Outmoded policymaking: Streetsblog USA reports on the weird legislative practice that keeps roads and transit in separate siloes while transportation bills are planned.
Numbers talk: The Bike League's top two policy wonks sat down for an hour-long video discussion of the recent Census report on bike commuting.
Why bikes: "What we desperately need is more people living in dense areas and traveling in ways that don't burn fossil fuels," writes Washington Post innovations editor Matt McFarland in a case for the public benefit of boosting biking.
Helmet laws don't help: Vox has written up maybe the best summary I've seen of the case against mandatory helmet laws.
Speaking of which: Dallas "is finally considering getting rid of what may be its dumbest law: the helmet ordinance," a local site writes.
Bike policy 101: Vox uses seven graphics to capture the basics of bike use in the United States and put them in a global context.
Bike business branding: Chicago's Lakeview and West Town neighborhoods have created a voluntary "Bike Friendly Business" program with "about 25" businesses on board so far.
Why bicycles inflame: "Bike wars are culture wars," an Australian columnist writes. "Bike-hate is not principally about delay."
"It's posh to pedal": The financial health experts at mint.com have a nicely wide-ranging infographic about bike transportation.
Scarce parking: Washington DC has added 3,000 public bike racks in 10 years but can't keep up with demand.
Your video of the week comes courtesy of Tucson Velo, which reported last week on a group ride that saw sheriff's deputies issue citations to 25 of the people below for running a stop sign. Here's the police record of the deed:
If you come across a noteworthy bicycle story, send it in via email, Tweet @bikeportland, or whatever else and we'll consider adding it to next Monday's roundup.