Bike ride will raise funds for Oregon State Police Fallen Trooper Memorial
Bike ride will raise funds for Oregon State Police Fallen Trooper Memorial
Commemorative ride jersey.
When backers of the Oregon State Police Fallen Trooper Memorial decided to have a bike ride to raise funds for the project, they knew just the person they needed call: Ken Chichester.
Chichester retired from the Oregon State Police in 1995 and he's known to many people for his nightly speeches during the annual Cycle Oregon ride. Chichester has worked with Cycle Oregon for the past 23 years and he's responsible for route development, ride safety, and permitting. His nightly addresses usually begin with a joke that is so eagerly anticipated that people in the crowd yell "Joke! Joke!" before he even has a chance to speak.
But now Chichester is working on a ride with a much more serious mission. The OSP Fallen Trooper Memorial Bike Ride will happen on August 2nd, the day after the memorial — which has been years in the making — is dedicated on the Capitol Mall in Salem. The memorial is a basalt stone sculpture that weighs about 60 tons and will be engraved with the names of State Troopers who have lost their lives while serving our state.
The fundraising goal is $223,000 and so far nearly $208,000 has been raised. Chichester shared with us this morning that they've has success with an annual run/walk event, so a bike ride seemed like a natural fit. When it came to who would organize the ride, "Given all my years at Cycle Oregon," Chichester said, "Guess who they called?"
The ride offers a 65-mile or 34-mile option. Both routes will roll out from the memorial on Capitol Mall to Aumsville. Then the longer route will keep heading west to Stayton, across two covered bridges near the community of Scio, and then onto Jefferson before joining back up with the shorter loop.
They've even designed a commemorative jersey (available next month) which you can purchase for $67. The design features the names of fallen troopers on the rear pockets and a badge on the front. We won't make any promises, but this might be a great thing to wear if you want to get a little more respect while out riding rural roads in Oregon. Here's the rear…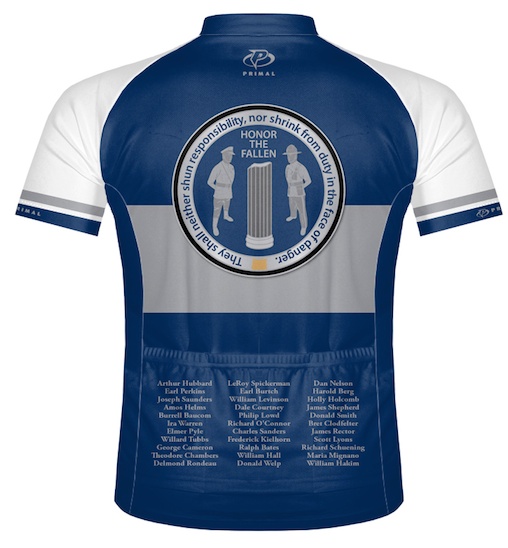 This is a rare and important opportunity to support the Oregon State Police. You can register for the ride online via Athletepath.com (it's $30 and comes with a cool t-shirt). For more info on the memorial, see the official website.