Expect traffic impacts on SW Barbur as ODOT begins bridge rehab project
Expect traffic impacts on SW Barbur as ODOT begins bridge rehab project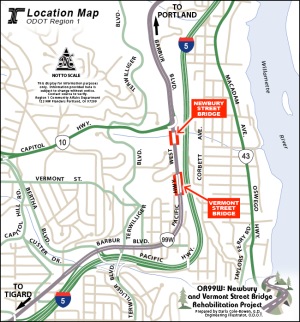 The Oregon Department of Transportation (ODOT) began construction today on a project that will rehabilitate two bridges on SW Barbur Blvd — a key bicycle route that offers people a straight and relatively flat connection from southwest to downtown Portland. Lane closures began this morning and the work is expected to last five months.
This is the same project that spurred a grassroots movement for improved bicycle access on Barbur back in January 2013. Despite Barbur's abysmal safety record and a strong case made for putting the major road on a "diet," ODOT and Portland Transportation Commissioner Steve Novick have been reluctant to move the idea forward.
On the brighter side, as we reported back in March, Novick has directed PBOT to work with ODOT on a traffic study during this construction closure. Their aim will be to observe how traffic responds and then determine the impact of a potential, future, and permanent lane reconfiguration.
ODOT says this week is just prep work with crews preparing the bridge decks for major work that begins next Monday (June 9). Even so, some lane closures have already begun. Below is a description of how the project will impact Barbur Blvd users in the coming months, followed by some bike-specific information:
Monday, June 2, the start of the first week of preparatory work, will see single lane closures, both northbound and southbound, 7 a.m. to 5 p.m., Monday through Friday.
On Monday June 9, the full lane closures start. Traffic will be restricted to one lane in each direction 24 hours a day, 7 days a week and continue until the project is complete in the fall. Only one bridge will see lane closures at a time.
The closures will be on Barbur Boulevard between the Capitol Highway exit on the north end and Brier Place on the south end. The result will likely be more daytime congestion on Barbur Boulevard in this area.
It is necessary for the contractor to close the southbound-only lanes of Barbur Boulevard for two weekends in June between Capitol Highway and Terwilliger Boulevard. The closures are expected to be the weekends of June 13-15 and June 27-29. The closures will be from Friday at 9 p.m. until Monday at 5 a.m.
Southbound traffic on Barbur will be detoured on to Capitol Highway and Bertha Boulevard, then back to Barbur. Access to Parkhill Drive during the detour will be from Terwilliger.
ODOT also shared some biking-specific warnings:
Bicyclists to Share Wider Travel Lane with Motorists

During daytime construction on each bridge, bicyclists will share a wider lane (14 feet versus the current 12-foot lane) with motor vehicles. In the evening and on weekends, the contractor will open a separated lane through the construction zone for bicyclists, whenever feasible.

On weekday evenings, the construction zone will be open for cyclists from approximately 4:30 pm to 6 a.m. unless night work is needed. Lighting will be provided to illuminate the work zone.
It's also worth noting that ODOT will institute a reduced speed limit of 35 mph (it is currently 45) for the duration of the project.
As for how the project will change Barbur, in addition to re-inforcing and updating the bridge structures, ODOT will re-pave the decks of both bridges, install a "bicycle/pedestrian safety railing" on both bridges, and more. However, none of the planned work will have a significant positive impact on bicycle riders. Despite pleas for some type of improved bicycle access, ODOT has maintained that new bike lanes or other major changes are beyond the scope of this project.
The agency has already made one bicycle-specific change related to the bridges: They installed flashing "Bikes on Bridge roadway" signs back in March.
For more information on the project, see the official website or contact ODOT's Susan Hanson at susan.c.hanson@odot.state.or.us.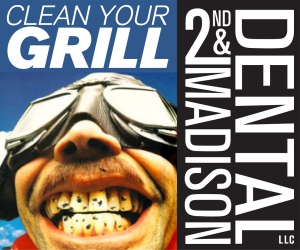 The post Expect traffic impacts on SW Barbur as ODOT begins bridge rehab project appeared first on BikePortland.org.