Thank you, BikePortland commenters
Thank you, BikePortland commenters
"…a multitude of comments germane to the subject matter with the vast majority displaying not only reasonableness but also sanity."
— Mike Deme, editor of Adventure Cyclist Magazine in reference to BikePortland comments.
I just want to take a break from our regularly scheduled programming to say thanks to everyone that comments here.
As blog comments have increasingly become the butt of jokes and scorned for their lack of constructiveness and compassion (John Oliver's amazing net neutrality segment being the latest example) — you have been the exception to the rule.
It seems not a day goes by here on the Front Page when Michael and I aren't impressed at the level of civility and smarts displayed in our comment section (like the one going on right now about land-use changes on SE Division). Sure, we have had our share of messiness and meanness that requires intense moderation. But like in real life, public conversations — especially when emotions and intellects get involved — are not always nice and tidy.

Of course I'm biased about our comments, but I also hear regular compliments from readers who appreciate them. And a few weeks ago I even saw very nice words about them from a unlikely source: the letter from the editor in an issue of Adventure Cyclist magazine.
The focus of Editor Mike Deme's monthly letter to readers (PDF here) was to encourage them to check out the digital version of their magazine. He started it off by explaining his fascination with blogs and comments, but he also issued a warning:
"Typically, my fascination is derived from reading comments connected to any random online article or news item. What they are about is unimportant because rarely do the comments pertain to the article's subject past the first three or four. The remainder either succumb to Godwin's Law or devolve into an online food fight that leaves me in a state of utter stupefaction, revealing what appears to me as the inability to reason, an affliction that may eventually contribute to this version of human society reaching some sort of conclusion."
But Deme had just come across our article about Nick Falbo's "protected intersection" design. And he held your comments up as an example of what Internet conversations could be:
"In the case of the Nick Falbo article, however, my fascination was because of the opposite occurrence: a multitude of comments germane to the subject matter with the vast majority displaying not only reasonableness but also sanity. Perhaps I should be hanging out on more august websites in the future…"
From day one, I have held your comments in the highest regard. I see no difference in value or importance between the words we type in stories and the words you type below them. That perspective has guided my (very loose and open) comment policy for the past nine years and I suspect it will guide me for the next nine years. Your comments are not just moving important conversations forward, they are a key part of our mission to inform and inspire.
So thank you, commenters for being so awesome and on point — and for shattering the blog-comment-sections-are-cesspools stereotype.
(If you have feedback about our comment section, or would like to ask me a question about our moderation policies, feel free to ask below. To further highlight our appreciation, and as a way to encourage others to leave great comments, Michael and I will be starting a new "Comment of the Week" feature. Watch for it here on the Front Page starting next week.)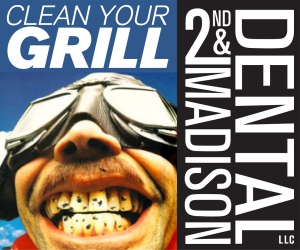 The post Thank you, BikePortland commenters appeared first on BikePortland.org.