'Popcorn plaza' video shows off benefits of reusing underused street space
'Popcorn plaza' video shows off benefits of reusing underused street space
One of the organizers for local group Better Block PDX has made a nice video of how Portlanders responded to two temporary public spaces the group created over the weekend at one of Portland's most interesting intersections.
After securing city permits and a green light from nearby business owners, the Better Block PDX team marked off an underused turn lane at Southeast 26th and Clinton and turned it into a public plaza (or technically, Portland architect Don Arambula observed, a "forecourt") for two days.
The video by Better Block's Hart Noecker shows the space that resulted: safe and comfortable for adults and children to linger and play in, watch each other and enjoy the city, rain and shine. Here's Noecker's description from his blog, Rebel Metropolis:
Over the course of the weekend, people came and went. Musicians stopped by, as did all manner of people on bikes, often with kids in tow. While we certainly didn't have the hundreds of patrons that our downtown installation drew (between two streetcar lines in front of Ace Hotel), there were many dozens of people who visited and explored the space over the weekend.

Some were invited friends coming to the plaza as a destination, but most were neighbors strolling by. All were interested how a turning lane could be better purposed as street seating for stopping to talk, playing some board games, reading, pointing out the most interesting cargo bikes. One neighbor spent hours roller-skating up and down Clinton street, stopping at the plaza during each run.

A nearby business owner who had previously voiced skepticism dropped by, and was impressed. Now, he said, he could see how easily the plaza worked, how narrowing the intersection helped calm traffic without impeding it. Still, by my own observation, less than one car turned right here every five minutes.
As a couple commenters noted below our post about this last week, TriMet's #10 bus uses this intersection, but it doesn't operate on the weekends and it also doesn't interfere with the larger of the two new public spaces created here. Still, it's something any permanent change to the intersection would have to consider.
Is that a problem that'd be worth solving? Check out the video and Noecker's full post and photos from the event and see what you think.
Correction 2:39 pm: An earlier version of this post inaccurately described the route of the #10.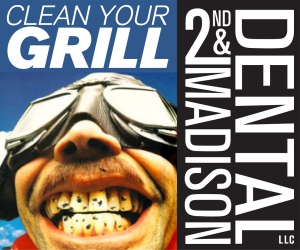 The post 'Popcorn plaza' video shows off benefits of reusing underused street space appeared first on BikePortland.org.