Friday news bits: Promotion, police, parking, and… eggs benedict?!
Friday news bits: Promotion, police, parking, and… eggs benedict?!
Just opened Ex Novo Brewing on N Flint already needs more bike parking.
(Photo J. Maus/BikePortland)_
I've got several small bits of local news I wasn't quite sure what to do with, so I figured I'd round them all up here on the Front Page.
Here goes…
Jessica Roberts promoted to principal at Alta Planning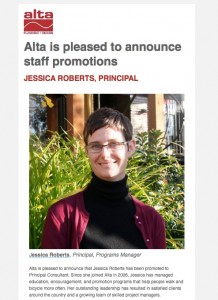 From company email
Congratulations is due to one of Portland's smartest bicycle thinkers and advocates: Jessica Roberts. You might remember her from her former role as an advocate with the Bicycle Transportation Alliance, or perhaps as a guest contributor here on BikePortland. Roberts left the BTA eight years ago for Alta Planning where she became a consultant with an expertise on bicycling and walking encouragement programs (a.k.a. Transportation Demand Management). Yesterday, Alta announced that she's been promoted to Principal Consultant.
"The programs she manages make a real difference," said Alta's President Mia Birk in a statement. "There are thousands of people who are biking and walking today because of Jessica's work."
Congrats Jessica!
New bike corral for Ex Novo Brewing Co.
There's yet another brewery and pub in north Portland. The non-profit Ex Novo Brewing just opened a few weeks ago, but it's already a popular spot. I swung by yesterday and noticed their on-street bike corral was nearly at capacity. The location is on N Flint near Albina Park. While that location is well-traveled by morning commuters, it's just a few blocks over from the always-busy Vancouver-Williams corridor. It's also a place where you're almost sure to run into local bike industry staffers because there are a lot of bike businesses nearby. Yesterday I ran into several folks from Portland Design Works and I hear it's popular with the crew from Metropolis Cycle Repair, Community Cycling Center, and others. Oh, and they also apparently have a mighty fine IPA.
How Portland Police bike officers roll to a protest march
Yesterday while biking eastbound over the Hawthorne Bridge I spotted something rather unusual rolling by in the opposite direction. A Portland Police van with officers standing outside of it was pulling a large trailer full of bikes. Then I remembered there was a big Gaza/Israel War protest happening downtown and figured they were headed there to quell any rowdy crowds.
Portland cop heads to Reddit in hopes of re-uniting a stolen bike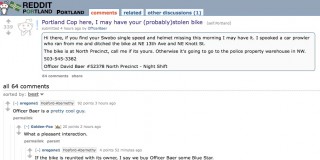 The local Reddit community is a bit flabbergasted that a Portland Police officer took the time to post the following message to the popular site:
Hi there, if you find your Swobo single speed and helmet missing this morning I may have it. I spooked a car prowler who ran from me and ditched the bike at NE 13th Ave and NE Knott St.

The bike is at North Precinct, call me if its yours. Otherwise it's going to go to the police property warehouse in NW.

503-545-3382

Officer David Baer #52378 North Precinct – Night Shift
From my perspective, that's not really much of a big deal. But that's probably because I'm well aware that many PPB officers are committed to recovering stolen bikes and are savvy enough to use the Internet to do it.
City clears up confusion on ticketing cars parked in bikeways
Earlier this week a reader emailed us about cars parking in the protected bike lane on SW Broadway near Portland State University. Like a good citizen should, he called the violations into the City's Parking Enforcement Hotline (503-823-5195). Here's what he was told:
"The woman told me that on Sundays, they only operate in downtown Portland, and they only enforce meter violations. Their agents won't ticket a car parked in the cycle track, even if they happen upon it in the normal course of their duties. Only a police officer will write a ticket for that on Sundays, she said."
That seemed odd to us, so we called PBOT for a clarification. Turns out whoever answered that call was wrong. "That's not our policy at all," said PBOT spokeswoman Diane Dulken. "If there's a vehicle in a bicycle lane, that's a priority for us because it's a safety issue." Dulken said they had no record of our reader's call, but she did say they recently got a similar call about cars parking in the NE Multnomah bike lanes in the Lloyd District. In that case, Dulken says a call came in at 8:10 pm and a parking officer was dispatched and issued two citations by 8:34 pm. The moral of this story is to keep (503) 823-5195 on speed-dial (or the police non-emergency line for weekends 503-823-3333).
How about free eggs benedict with your morning commute?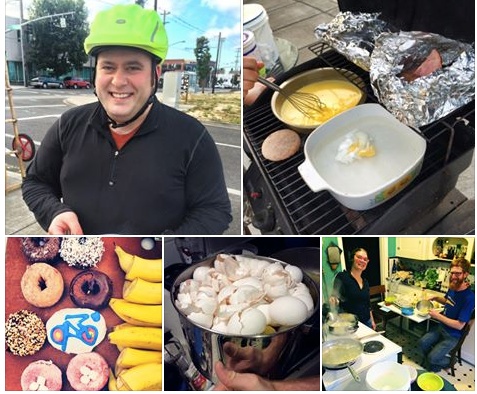 (Photos by Lance Poehler)
Portland is a pioneer of Breakfast on the Bridges, a grassroots phenomenon that creates community among those who ride to work. Usually the fare includes coffee and donuts; but a dedicated crew woke up extra early this morning and raised the bar by serving eggs benedict! Cheers to Lance Poehler and friends for pulling this off. Check out their Facebook post for more photos.
Do you have a news tip or issue you'd like us to cover? With just 1.5 people on staff here, we always need more eyes and ears on the streets. Get in touch with us via Twitter, email, or if it's urgent, use our 24HR tipline (503) 706-8804.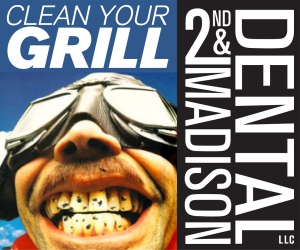 The post Friday news bits: Promotion, police, parking, and… eggs benedict?! appeared first on BikePortland.org.