Weekend Event Guide: Freak bikes, urban singlespeeding, levees, and more
Weekend Event Guide: Freak bikes, urban singlespeeding, levees, and more
Freak Bike Fall is back and there's a ride, race, and other fun stuff all weekend.
(Photo: J Maus/BikePortland)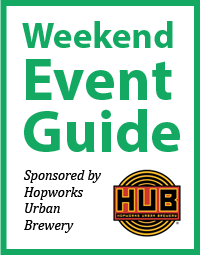 Welcome to your menu of weekend rides and events, lovingly brought to you by our friends at Hopworks Urban Brewery.
Finally fall has really set in. After a summer that just didn't want to go away, we've seen our first real rain and wind of the season. I'm actually happy for the change. With all the climate change weirdness these days, it's reassuring when relatively normal weather patterns return.
Assuming you don't mind getting wet and/or you're prepped to deal with it, there's still plenty of fun to be had on two wheels this weekend. Check out our listings below…
Friday, October 17th
Freak Bike Fall Dropout Bike Club Ride – 9:00 pm at Colonel Summers Park (SE 20th and Belmont)
Freak Bike Fall is here again and the Dropouts are ready to party. Pack up your rig with munchies and drinks for a night of freaky fun. All bikes and riders are welcome. Expect to roll out at 10:00. More info here (FB).
Saturday, October 18th
Cross-Word CX Challenge – All day in Canby (6255 S. Arndt Rd, about 30 minutes south of Portland)
Head south to beautiful Canby and race this popular course that comes complete with river crossings, a natural forest trail and more surprises. There's also a big after-party. More info here.
Slow Poke Ride – 10:00 am at Lents Park (SE 92nd and Holgate)
Join the Portland Wheelmen (and women!) Touring Club for this social-paced ride on the Springwater path. The route will be about 27 miles from Lents to Boring and back. More info here.
N.O.I.S.E. 2014 – 12:00 pm at Fresh Pot (N Mississippi and Shaver)
This is an unsantioned, urban single-speed mountain bike ride. Expect a wide variety of terrain including trails, jumps, streets and more. Oh, and there will be a lot of shenanigans. More info here.
Sunday, October 19th
Cross Crusade #3 – All day at Portland International Raceway
Don't miss this full day of cyclocross racing and spectating that's very close to Portland. Kid's Cross, a big expo area, lots of food and drinks, a great course, perfect 'cross weather… What more could you ask for?! More info here.
Bike Milwaukie Monthly Ride – 9:30 am at Milwaukie City Hall (10722 SE Main St)
This month's route is what organizers call the "neighborhood ride." This 8-10 mile loop is a great way to explore Milwaukie. Families are encouraged and the ride will end at the bustling local farmer's market. More info here (FB).
Bike the Levees – 10:00 am at Multnomah County Drainage District (1880 NE Elrod Drive)
This is a new event hosted by the Columbia Slough Watershed Council and the Multnomah County Drainage District. They'll offer a guided, 16-mile easy route that will explore the Columbia Slough Trail. Riders will learn how Portland's levee system protects our city from flooding and provides great riding opportunities. Free, but registration is required. More info here.
Freak Bike Fall – Escape From Felony Flats Race – 2:00 pm at PAZ Workspace (1625 SE Woodward)
Grab your craziest bike (also open to regular bikes if you must) and put it to the test at this "truly epic freak bike race." Expect a challenging course and some of the coolest bikes you've ever seen. More info here (FB).
— If we missed anything, feel free to let us know and/or give it a shout-out in the comments.
The post Weekend Event Guide: Freak bikes, urban singlespeeding, levees, and more appeared first on BikePortland.org.