Weekend Event Guide: Corn cross, Blazers Bike Night, sausage ride, and more
Weekend Event Guide: Corn cross, Blazers Bike Night, sausage ride, and more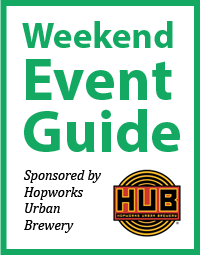 Welcome to your menu of weekend rides and events, lovingly brought to you by our friends at Hopworks Urban Brewery
Things are getting a bit lean on the various ride calendars… Except, that is, if you are a cyclocross fan (and can get to Bend). If you aren't into racing and you'll be in Portland this weekend… Might I suggest joining 100 other BikePortland readers for Blazers Bike Night on Sunday!?
Of course, Halloween is tomorrow and we all know that the streets will be full of folks headed to parties and filling up panniers with candy and treats.
Have fun!
Friday, October 31st

Halloween Bike Bash – 2:00 to 8:00 pm at Crows Feet Commons in Bend (875 NW Brooks St)
If you're in Bend this weekend for the Cross Crusade races (see below), you don't want to miss this. Crusaders and Crows Feet Commons have teamed up to offer craft and candy making, a kids bike race, beer, and general merriment to kick off the weekend. More info here.
Saturday, November 1st
Sandy/Boring Corn Cross – All day at Liepold Farms (1405 SE Richey Road in Boring)
Take a scenic farm, add the course design magic of Portland's renowned cyclocross legend, veteran, and consummate pro Erik Tonkin, and mix in the support from Tonkin's shop Sellwood Cycle Repair, and you get the Corn Cross. Another thing that makes this race so great is that two of its presenting sponsors are the City of Sandy and the Clackamas County Tourism board. Bring the family and enjoy the farm, the food, the corn maze, live music, and more. More info here (PDF).
Cross Crusade #5 – All day at Deschutes Brewery in Bend's Old Mill District
This is day one of a big, two-day weekend of 'cross racing in Bend. Racers and spectators at this event will enjoy one of the best courses on the Crusade circuit. More info here.
Verboort Populaire – 9:00 am in Forest Grove (Lincoln Park, 2749 Main Street)
If you are randoneurring-curious this is the event you've been waiting for. Start in Forest Grove and enjoy a scenic, 63-mile loop up the Vernonia, ending at the annual Verboort Sausage Festival. More info here.
North Portland Figure 8 – 10:30 AM at Wilshire Park (NE 36th and Skidmore)
28-mile route planned that will go from northeast up to north Portland with a stop at the Grand Central Bakery on Fremont. More info here.
Jungle Cross Warehouse Party – 8:00 pm to 3:00 am at Deschutes Brewery Warehouse (399 SW Shevlin-Hixon Dr.)
This is the Party of the Year for bike racers. Note the "Jungle" theme and get ready for great DJs, live jungle entertainment acts, lots of jungle juice, and probably lots of jungle boogie-ing. $15 entry fee benefits the High Desert Museum. More info here.
Sunday, November 2nd
Cross Crusade #6 – All day at Deschutes Brewery in Bend's Old Mill District
Come to see the great costumed racers and revel in the annual Halloween cyclocross traditions. After a day of racing and a big, blowout party on Saturday, most racers and their fans will be tired and in recovery mode — which always makes for fun times! More info here.
Dia de los Muertos Ride – 1 p.m. at Harvey Scott School, 6700 NE Prescott
The first annual ride by Mujeres en Movimiento, this is "open to parents, niñ@s, abuelitos y abuelitas and everyone else. You can come dressed in muertos gear, there will also be some face painting, hot coco and pan dulce at Harvey Scott and even more activities at our final destination." More info here (Facebook).
BikePortland Blazers Bike Night — Meet at Peace Park at 4:15 pm
Join 100 (or so) of your fellow BikePortland readers for a night of Blazermania. We'll meet at Peace Park and then do a short parade loop to the Moda Center. We'll have our bikes and gear taken care of by the Go By Bike bike valet service, pick up the custom reflective Blazer logo stickers they've made just for us, give away a kids helmet signed by LaMarcus Aldridge, make some bike-themed signs to hold during the game (get ready for our big moment on the Jumbotron!) and enjoy the live music and other pre-game festivities. Ticket information and more info here.
— If we missed anything, feel free to let us know and/or give it a shout-out in the comments.
The post Weekend Event Guide: Corn cross, Blazers Bike Night, sausage ride, and more appeared first on BikePortland.org.