The Monday Roundup: GPS pedals, The Growing Bike, texting vs. cop and more
The Monday Roundup: GPS pedals, The Growing Bike, texting vs. cop and more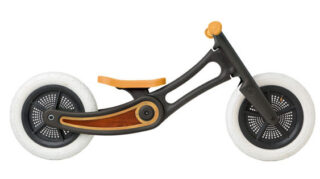 These are the stories that caught our eyes last week…
Smart pedals: The buzz this morning is all about "connected" pedals that track your location, speed, distance and so on. They debuted today at the Consumer Electronics Show (CES) in Las Vegas.
The Growing Bike: This balance trike-and-bike adjusts to fit your kids as they grow.
Distractions everywhere: A Eugene motorcycle cop who had just pulled someone over for texting while driving was hit by a van whose driver is suspected of texting while driving. Can you say epidemic?
Institutional inequality: According to the rules that recommend when a stoplight should be installed in the United States, a person on foot counts as four-fifths of a person driving a car.
Car ownership costs: They're rising dramatically in some world cities, falling rapidly in others.
Not just "racing cough": One in three racers on the British pro cycling Team Sky has asthma. That's 3-4 times the national rate.
No accident: Seven years of rapid street redesigns (including, most visibly, 400 miles of bike lanes) made 2014 the safest year for walking in New York City since records began in 1910.
Places we'd like to be: The Golden Gate Bridge next weekend when it's closed to auto traffic.
75,065 miles in one year: The record has stood since 1939.
Helmet laws: A new study found that bike helmet laws reduce bike-related head injuries among children by 13 percent … apparently because they reduce biking among children by about 9 percent.
Safety tools: In an alternative universe, people in English-speaking countries worry less about bike helmets and more about something that's apparently more important to bike safety: permanent running lights.
Terrible idea: One drunk man coaxed another to climb onto the seat of a half-bike mounted ten feet above a sidewalk storefront. He apparently escaped with broken bones, but the video is excruciating.
Truck sideguards: Despite a federal board's recommendation, the federal government is dragging its feet on requiring these lifesaving features.
Bridge bike lane: Bike traffic across a Minneapolis bridge rose 81 percent after it got post-protected bike lanes in 2014. (There had been no bike lane before.)
Bike dashboard: A team of ex-Audi workers have created a $159 electronic dashboard for your bike, including turn signals and smartphone dock.
Capacity contradiction: You can believe in Peak Car or you can believe in induced demand, but Aaron Renn argues that you can't believe in both.
Injury lawsuit 1: A Chicago woman paralyzed in a bike crash has sued the city for allegedly "failing to adequately warn bicyclists of the turns and sudden drop-offs along that stretch of trail."
Injury lawsuit 2: A Portland woman has sued the organizers of a Hood River mountain bike race after striking a fallen tree that had been left on the course.
2015 trends: The slope of the "bike sharing" curve on this chart is pretty neat. So are all of these curves, actually.
Urban wreckage: These before-and-after slider maps show how freeways tore up U.S. street grids.
Highway, Boulder-style: The 18-mile route to Denver's bike-friendliest exurb is getting a sidepath.
Paperboy retires: The last bicycle newspaper carrier in Salisbury N.C. is retiring. He's 83. (The Mercury wrote about one of Portland's last paperboys in 2010 … before switching to bike delivery itself.)
Dutch car sales: In the Netherlands, 2014 was the second-worst sales year for new cars since 1969. Half the country's showrooms are expected to close in the next few years.
Your video of the week is also Road.cc's video of the year. This GoPro video of two dudes drafting a truck on a freeway at 77 mph topped the UK cycling site's list of its top 10 bike videos of 2014. It keeps getting crazier:
Perspective: And for a final item, here's one person's experience that has resonated even more than usual with us over the last week: (Note from the Publisher: For context, @Caitlin's tweet was made in reaction to serious allegations that have been swirling on Facebook for the past few days about someone who has been active with PDX Bike Swarm and other groups — and whose writing and photos have been featured here on BikePortland. We are aware of the allegations, take them very seriously, and are still considering the most appropriate way to respond. There's a big meeting tomorrow night where I hope to learn more. – Jonathan)

There's a special rage I feel toward white men whose biggest social justice concern is bicycling

— Caitlin (@spoonunits) January 3, 2015
If you come across a noteworthy bicycle story, send it in via email, Tweet @bikeportland, or whatever else and we'll consider adding it to next Monday's roundup.
The post The Monday Roundup: GPS pedals, The Growing Bike, texting vs. cop and more appeared first on BikePortland.org.