Weekend Event Guide: Gold sprints, road race, path surprises, and more
Weekend Event Guide: Gold sprints, road race, path surprises, and more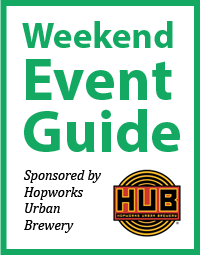 Welcome to your menu of weekend rides and events, lovingly brought to you by our friends at Hopworks Urban Brewery.
What are your plans for the weekend? The weather looks like it will hold up and be just dandy for some bike riding.
If you don't already have something planned, perhaps we can entice you to one of the rides below. Whatever you do, have a great weekend!
Friday, February 27th
Gold Sprints at Western Bike Works – 6:00 pm at the shop (1015 NW 17th)
Show up and show off your strength and spinning skills (or lack thereof) and enjoy prizes while hanging out at Western Bike Works' Corsa Cafe. All you need is a good attitude and they'll provide everything else. This will be good practice for the finals which will take place at their new Tigard location on March 27th. More info here (FB).

Portland Bike Party – Illumi-Naughty – 7:00 pm at Jamison Square (810 NW 11th)
The monthly Bike Party ride has a lit-up theme tonight. Or, more precisely, a neon light theme. Come dressed (you and your bike) in the brightest and loudest, most hi-viz stuff you can find and join others who will be "fostering smiles and laughter, Masterminding a world that parties on wheels." Afterparty at Hopworks BikeBar (3947 N. Williams). More info here.
Saturday, February 28th
Free Bike Maintenance Clinic at Pedal PT – 10:00 am at 2622 SE 25th Ave
This is the second part of Pedal PT's bike maintenance clinic. Show up and get expert insights from Aaron Michalson of Left Coast Bicycle. He'll review flat fixing and go over derailleur adjustments. There will also be a Q & A and time to practice on your own. Coffee and treats will be provided. More info here.
Biking About Architecture: Buckman-Ladd Edition – 12:00 pm in parking lot behind Holman's (2705 SE Ankeny)
Join Jenny Fosmire and her crew of merry urban architecture lovers for a laid-back tour (about 7 miles) of old homes, modern dwellings, and even a geodesic hendome! Ride at as Cartopia food carts. More info here.
Tualatin Mountains Work Party – 12:30 pm at Skyline School (11536 NW Skyline Blvd)
Remember that exciting project Metro has embarked on to improve bike access in the Tualatin Mountains? Now is your chance to show them how much that access means to you. This is the first-ever work party for this project and advocates want to get as many volunteers as possible to show Metro that bikes and the people who love them are an asset to our mountains and natural areas — not a threat. This even is co-hosted by Metro and the Northwest Trail Alliance. You'll help them plant 2,000 shrubs! More info here (FB).
More Hidden Gems of the Springwater – 1:00 pm at Woodstock City Park (SE Steele and 47th)
Puddlecycle Tom is leading what should be a fun exploration of the Springwater path. Join this ride for an exploration of the hidden gems along the Springwater as it winds out toward Gresham. Highlights of the route include an arts plaza, a graveyard, Tsuru Island, a secret rock garden, Butler Creek nature area, and more. More info here.
Sunday, March 1st
Dirty Circles Road Race – 8:00 am in Woodland, WA
It's the first road race of the 2015 season! Dirty Circles is a three race series. The route is a relatively flat, 6.1 mile loop along the Columbia River. This full day of racing features categories for men and women of all skill levels. More info here.
NW Trail Alliance Group MTB Ride – 9:00 am Universal Cycles (2202 E Burnside)
If you're looking to get familiar with the best trails and mountain bike routes in the region, these are the folks you need to connect with. This week's ride will head out to Siouxon for a 22 mile loop. More info here.
Larson's Bakery Ride – 10:30 am at Marshall Center in Vancouver (1009 E McLoughlin Blvd)
The Portland Wheelmen (and women) Touring Club will lead this 25 mile route from downtown Vancouver to Larson's Bakery. Expect to explore some fine bike paths and back roads before your baked treat. More info here.
— Did we miss anything? Let us know via the comments and make sure to drop us a line if you have an upcoming event you'd like us to feature next week.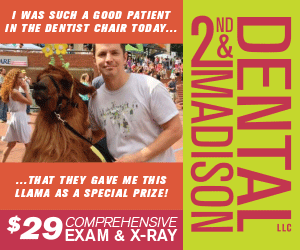 The post Weekend Event Guide: Gold sprints, road race, path surprises, and more appeared first on BikePortland.org.