Sunday morning collision at 26th and Powell severs leg of man on bike
Sunday morning collision at 26th and Powell severs leg of man on bike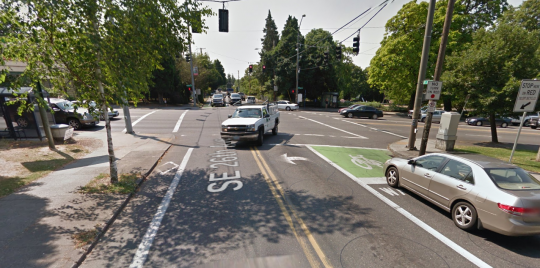 The southbound view at 26th and Powell. Police said preliminary information indicated that the man was biking south when a northbound truck turned left in front of him.
(Image:
Google Street View
)
A collision involving a pickup truck and a bicycle critically injured a man biking southbound on 26th Avenue just before 10 a.m. Sunday morning.
Police said the injured man's leg was severed after the northbound truck turned left onto Powell in front of him. He was "transported to a Portland hospital with life-threatening injuries."
Here's the full news release from the Portland Police Bureau:
On Sunday May 10, 2015, at 9:52 a.m., Central Precinct officers responded to Southeast 26th Avenue and Powell Boulevard on the report that a man riding a bicycle had a leg severed after being struck by a man driving a pick-up truck.

Officers and medical personnel arrived and located the injured man in his 20s. The victim has been transported to a Portland hospital with life-threatening injuries. Several passersby stopped to provide medical aid until paramedics arrived at the scene.

The driver of the truck remained at the scene and has been detained by police for further investigation.

Preliminary information indicates that the truck driver was northbound on 26th Avenue and the bicycle rider and a friend were riding southbound on 26th Avenue. The truck driver turned left in front of the bicycle riders, colliding with the victim.

The Traffic Division's Major Crash Team has responded to the scene to investigate the crash.

The intersection of Southeast 26th Avenue and Powell Boulevard will be closed to all traffic for several hours as a result of this investigation.
This is one of the most important bike crossings of Powell, with bike lanes and bike boxes in both directions. It's the main corner in front of Cleveland High School.
The 20s Bikeway project, which is nearing completion, is currently considering creating an alternative neighborhood greenway route on 28th Avenue, a lower-traffic street two blocks east. That would require a new signalized crossing. As of April 30 the Oregon Department of Transportation, which controls Powell Boulevard, had not yet decided whether to approve that new city-requested signal because it is so close to the existing one at 26th.
This post will be updated as we can learn more.
The post Sunday morning collision at 26th and Powell severs leg of man on bike appeared first on BikePortland.org.