Weekend Event Guide: Clinton, swaps, e-bikes, and more!
Weekend Event Guide: Clinton, swaps, e-bikes, and more!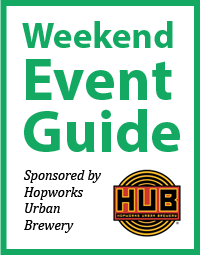 Welcome to your menu of weekend rides and events, lovingly brought to you by our friends at Hopworks Urban Brewery.
We've got a full slate of rides and events so I hope you're ready to roll.
Need new gear? Two bike swaps and a party at North St. Bags new retail location should have you covered. Want to support local business and remind Portland that Clinton is a bike-priority street? Then join the Bike to Shop festivities.
And of course if you just want to ride with friends old and new, we've got some tips for that too…

Friday, May 15th
North St. Bags Grand Opening Party – 4:00 to 8:00 pm at 2716 SE 23rd Ave
Portland favorite North St. Bags continues its exciting growth with the opening of a new retail showroom. Help them toast their new space and browse their fantastic line of panniers, backpacks, and more. You might even win a free bag! More info here (FB).
Mt. Hood Bicycle/Pedestrian Coalition Meeting – 5:00 to 7:00 pm at Cascade Ski Lodge (30510 E Blossom Trail in Government Camp)
Show up, learn, get involved, and help make the neighborhoods and roads around Mt. Hood better for biking. This month's meeting will include a presentation from a US Forest Service ranger about policies regarding gravel and service roads. More info here.
Super Swap – 6:00 to 8:00 pm at Imago Dei Community Recreational Center (1302 SE Ankeny)
If you need some great gear for your big summer bike adventures, look no further. This one-day sale will feature fine brands and discriminating collectors offering exceptional deals on apparel, parts, frames, complete bikes, wheels, and everything else. It's free, but you can be an early bird and get in at 5:00 for $10. More info here.
Dropout Bike Club Monthly Ride – 9:00 pm at Colonel Summers Park (SE 20th and Belmont)
Join the fun-loving Dropouts for their monthly freakbike social ride. Show off your latest build, or marvel at others' creations. Either way, you're sure to have fun on this ride that will venture into the wee hours (if you're up to it). More info here.
Saturday, May 16th
Reach the Beach – All day from multiple locations
The 25th anniversary edition of this classic Oregon event is sold out, but it still bears mentioning. Riders will leave from Portland, Newberg, Amity, and Grande Ronde en route to the huge party at Pelican Pub on the beach at Cape Kiwanda. More info here.
Westside Ride – 9:30 am at Streets of Tanasbourne (corner of NW Stucki and Venetion in Hillsboro)
Join the Portland Wheelmen (and women) for an Washington County excursion. Expect a distance of 35-52 miles depending on what loop options you decide on. More info here.
Felt E-Bikes Demo Day – 11:00 am to 4:00 pm at Cynergy E-Bikes (3822 SE Powell Blvd)
Learn all about the latest e-bike technology and test-ride Felt's latest models. They'll be at Cynergy all day showing off their Bosch mid-drive-equipped creations. More info here.
A.R.T. Ride – 4:00 pm at VeloCult (1969 NE 42nd)
Join one of Portland's most dynamic rider leaders, Maria "Bicycle Kitty" Schur for a "chill urban ride" that will end at a festival at Artist Repertory Theater (where rumor has it there will be free beer). After the ride, catch a performance of "4,000 Miles" a play about one man's cross-country bicycle journey. More info here (FB).
Sunday, May 17th
Kenton Cycle Repair Swap Meet – 10:00 am to 4:00 pm at 2020 McClellan St
A good, old-fashioned swap meet. Sell or browse, you are sure to not come home empty-handed. $10 for a vendor spot. More info here.
Tilikum to Gravel – Creating a World Class Clinton – 2:00 at SE Water/OMSI Streetcar Stop
Part of the Clinton Greenway 30th birthday celebrations, this ride will survey the Clinton corridor bikeway and share ideas and visions about how to make it better. You'll see the highs and lows of Clinton, including the crossing of 82nd, the 50s Bikeway, and more. More info here.
Bike to Shop on Clinton – All day through Thursday May 21st on Clinton Street
14 businesses on Clinton Street have signed up (so far) to give you deals and discounts just for showing up by bike! Now is your chance to practice your cargo loading skills, join other shop-by-bike veterans, and support local businesses who support cycling. More info here and see all the Clinton Street action on the Portland Neighborhood Greenway Safety Facebook page.
Bike to Beers on Clinton – 5:30 to 7:30 pm at Fifty Licks Ice Cream (2021 SE Clinton)
Volunteers working to make Clinton Street safer for everyone are hosting a Bike to Beers event at a different pub each night through Thursday the 21st. They'll kick things off at Fifty Licks who will be serving up specials on ice cream cocktails when you show up by bike. More info here (FB).
— Did we miss anything? Let us know via the comments and make sure to drop us a line if you have an upcoming event you'd like us to feature next week.
The post Weekend Event Guide: Clinton, swaps, e-bikes, and more! appeared first on BikePortland.org.