Opinion: Just 5 hours of Sunday Parkways is not enough
Opinion: Just 5 hours of Sunday Parkways is not enough
Another Sunday Parkways is in the books, and it was simply sublime. The weather, the people, the parks — it was Portland summer and community spirit at its finest.
As I rode the nine-mile loop with my family (going slower than usual to ride alongside my wife Juli who decided to jog the loop), I kept wondering why it only happens in my neighborhood for five hours a year.
Just five precious hours out of 8,766 hours every year.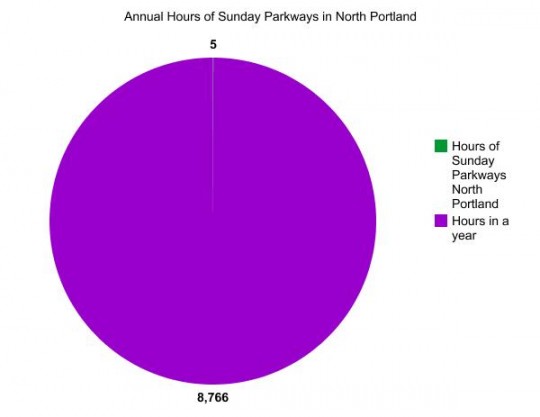 PBOT says an estimated 30,000 people participated in the event yesterday. As I passed by a few thousand of them, I thought to myself: This wonderful diversity of ages, skin colors and body types is so inspiring! This is what cycling can be and should be every day!
But where are all these beautiful people the other 8,761 hours of the year? I never see them in the bike lanes I ride every day.
We all know the answer to that question. Many of them would never consider cycling (or allow their children to do it) because they are afraid. Afraid of riding bikes next to people driving cars.
The removal of cars from the traffic equation has a transformative impact on our minds and our neighborhoods. It allows us to make choices about how to move around without the fear of death or injury factoring into that choice.
The street environment we all enjoy during Sunday Parkways shouldn't be seen as a luxury item offered up as a special treat by the City of Portland only to be consumed by certain neighborhoods for a mere five hours a year. It should be seen as a basic service that everyone can access on a much more regular basis.
Everyone knows Sunday Parkways is an unqualified success by every measure (thank you PBOT!), so isn't it time we started to do it more often? Let's start by doing it five months a year in each neighborhood quadrant. Then let's do it weekly throughout the summer just like they do in Bogotá, Colombia, the place that inspired us to do Parkways in the first place.
2018 will be the 10th anniversary of Sunday Parkways. I hope by then we have a lot more of it to celebrate.
The post Opinion: Just 5 hours of Sunday Parkways is not enough appeared first on BikePortland.org.