Weekend Event Guide: Freedom, fireworks, camping and more
Weekend Event Guide: Freedom, fireworks, camping and more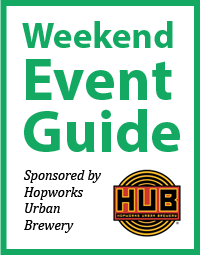 This menu of delicious rides and events is brought to you by our friends at Hopworks Urban Brewery. Their support makes BikePortland possible.
With the heat we've been having it's probably just as well that our calendar of rides isn't nearly as full as it has been. And the weekend after Pedalpalooza always feels a bit quiet — as if the community takes a collective rest and needs time to recover after three weeks of riding and partying.
That being said, it's still summer and there's never a bad day for a ride (and don't forget to check out our stay-cool tips when you head out).
One note of caution, if you plan to head out to the Gorge through Corbett via the Historic Highway on Saturday (the 4th), remember that the road is closed for a parade from 9:30 am to about noon.
Have a great holiday weekend!
Friday, July 3rd
Northwest Tandem Rally – All weekend in Bellingham, WA
Head north to the sweet city of Bellingham for a full weekend of rides and events for tandem lovers. More info here.
Friday Night Ride – 7:30 pm at Washington High School (SE Stark & 14th)
Looking for a fun ride where you can roll city streets in a group and discover new friends and places? This week's ride will connect several parks. Expect a chill vibe. More info here.
Saturday, July 4th
Bike Camping at Horning's Hideout – All weekend
Just a short ride and MAX trip from Portland and you'll be at a sweet little destination. This ride is being led by non-profit Cycle Wild and they've reserved a group site. Just $6 per person. Sign up and learn more here.
PDX Independence Invitational – 6:30 am at Joe's Celler (NW 21st & Pettygrove)
Feel like tackling a monster of a route (85 miles, 13,000 feet of climbing) on Independence Day? Sign up for the Invitational and you'll discover some great roads and discover what you're made of. Registration is $15 or $39 for a team of three. More info here.
Barbur Without Barbur Fireworks Ride – 9:00 pm at Go By Bike (under the Tram in South Waterfront)
Looking for a cool way to view a professional fireworks show? This ride will take you to a secret viewing spot that's perfect for watching the fireworks at Oaks Amusement Park. Total mileage from South Waterfront is only five miles round-trip. More info here.
Sunday, July 5th
East County Series – Orient Drive to Troutdale – 10:00 am at Safeway (NE 181st and Halsey)
Join the Portland Wheelmen Touring Club for this exploration of eastern Multnomah County. Expect a moderate pace (14-16 mph) and a route that includes the Sandy River and Troutdale. More info here.
Zoobomb! – 8:30 pm at The People's Bike Library of Portland (SW 13th and Burnside)
It's perfect weather to hang out up in Washington Park and enjoy the cool breeze on your ride down the hills. And the MAX trains have great A/C! More info here.
— Did we miss anything? Let us know via the comments and make sure to drop us a line if you have an upcoming event you'd like us to feature next week.
The post Weekend Event Guide: Freedom, fireworks, camping and more appeared first on BikePortland.org.