Weekend Event Guide: Camp, race, make peace, join a fiesta, visit farms and more
Weekend Event Guide: Camp, race, make peace, join a fiesta, visit farms and more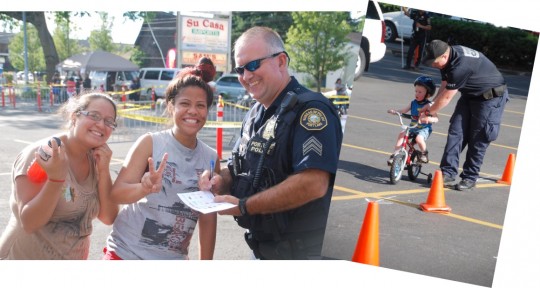 Bring the kids to St. Johns for the PPB Bicycle Safety Fiesta on Saturday.
(Photo: Portland Police Bureau)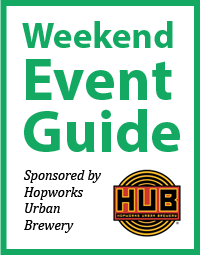 This menu of delicious rides and events is brought to you by our friends at Hopworks Urban Brewery. Their support makes BikePortland possible.
The heat is back; but fear not, esteemed lovers of bicycling, there are ample ways to deal with it. This weekend you can choose to head for rivers or the Gorge and do some camping, eat lots of ice cream (Sunday is National Ice Cream Day!), kick-back and watch some racing, and more.
And if you're looking for family-friendly events you're in luck. Peruse our suggestions below and have a great weekend!
Friday, July 17th

Bike Peace Music Festival – Friday and Saturday in Cascade Locks (Columbia River Gorge)
This inaugural event looks amazing. Organizers have lined top musicians and great camping options. And they strongly encourage folks to ride bikes to the event and stay the night on Thunder Island. More info here.
Saturday, July 18th
Kidical Mass Camping Adventure – All weekend in Sandy
Portland's biking families are headed to Dodge Park on the Sandy River for an overnighter. Total distance is 21 miles each way, much of it on the Springwater Corridor path. Register for a camping spot and learn more here.
Alpenrose Velodrome Challenge – All weekend at Alpenrose Velodrome (6149 SW Shattuck)
The fastest track racers from around the country will display their skills and speed for all to see in this two-day racing extravaganza. The event is free for spectators, who can sit back with great food and drinks and take in all the action. Racers will compete for track records and sizable cash prizes. More info here.
Slow Poke Ride – 9:30 at Gateway Transit Center (NE Pacific and 99th)
Expect a pace of about 10-12 mph and a route through neighborhood streets that will head east from Gateway and end up in Gresham. Route is 24 miles total and the group will stay together. Led by Portland Wheelmen Touring Club. More info here.
Portland Police Bureau Bicycle Safety Fiesta – 3:00 to 9:00 pm at St. Johns Community Center (8427 N Central Ave)
The PPB hosts its third annual family-friendly bicycle fiesta. They'll have a bike helmet fitting station, fun activities to teach kids the rules of the road, a bicycle obstacle course, community booths, free food and drinks, live music and dancing, and more! Kids who participate in all the activities are entered to win a free bike. More info here.
Sunday, July 19th
In Search of Cascade Locks Century Ride – 8:00 am at Missing Link Bike Shop (7215 NE Sandy Blvd)
Head east through the beautiful Columbia River Gorge on this ride led by an experienced guide. Expect hospitality from Missing Link Bike Shop in the form of coffee and snacks at the start. It's an out-and-back, so if 100 miles is too much, you can peel back early. Oh, and the ride will stop at Thunder Island Brewing in Cascade Locks. More info here.
Rogue Revolution Ride – 9:00 am at Rogue Hop Farms in Independence
This 50-mile organized event ride is hosted by Rogue Brewing — and it starts at their hop farm in beautiful Indepedence (just southwest of Salem)! The ride will take you through a covered bridge and past wineries and gorgeous old farming communities. More info here.
Hill Climb State Championships – 10:00 am at Government Camp rest area on Highway 26
Who is the fastest climber in Oregon? This event will decide. The route will take competitors from 1,900 feet up from Government Camp to Wy' East Lodge at an average grade of 18% (yikes!). Their pain will be rewarded by a sense of accomplishment and for a select few, a state champion jersey. More info here.
Ice Cream Ride – 1:00 pm (RSVP for meetup location)
Sunday is National Ice Cream Day and what better way to celebrate than a guided bike tour of Portland's best ice-creameries. "Earn your scoops," is how the ride organizer puts it. This ride will stop into four different shops over 14 miles, so remember to pace yourself (and bring cash). To RSVP, please email the ride organizer at sarahmmoody at gmail (that's two "Ms").
— Did we miss anything? Let us know via the comments and make sure to drop us a line if you have an upcoming event you'd like us to feature next week.
The post Weekend Event Guide: Camp, race, make peace, join a fiesta, visit farms and more appeared first on BikePortland.org.